Severe Thunderstorm Risk Map For September 4th, 2017 #onstorm
InstantWeather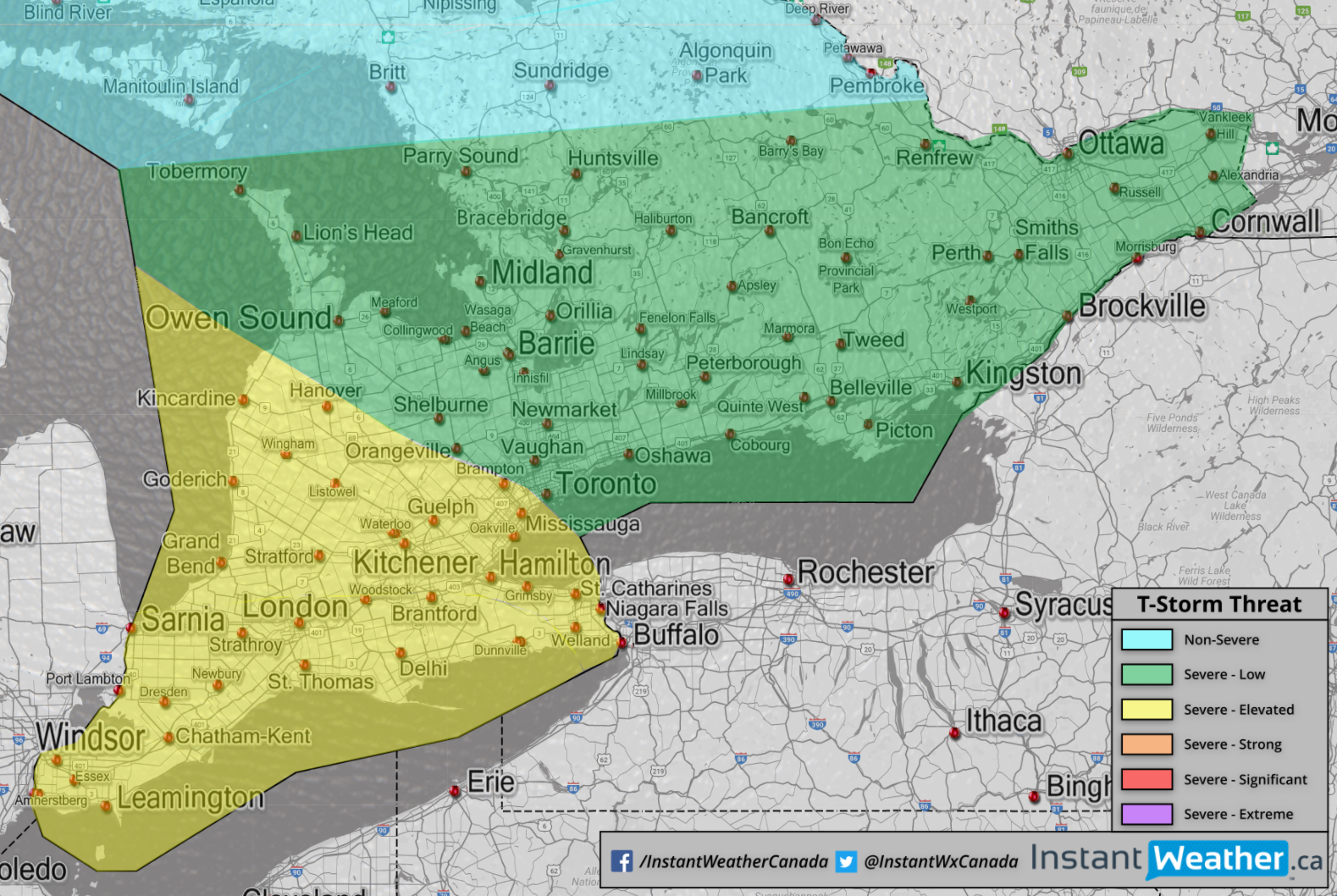 Yellow = Elevated (2/5) risk for severe thunderstorms this afternoon/evening Green = Low (1/5) risk for severe thunderstorms this afternoon/evening
A line of thunderstorms, several likely to be severe will push southeast through our region this afternoon/evening.
Damaging wind gusts are the most serious threat (downbursts/microbursts), along with flooding, hail and frequent lightning. There'a also a risk for a tornado or two, especially in deep southwestern Ontario, in areas north of Lake Erie. Latest data suggests if there is a tornado, it could be fairly strong and we'll be watching very closely this afternoon.
We may upgrade extreme southwestern Ontario and areas north of Lake Erie, and perhaps as far north as London to a Strong (3/5 Orange) risk later this afternoon. We're on the fence at this point but if we feel the risk continues to trend stronger, we will adjust the forecast accordingly.
More details ASAP.
OTW (Adam S., Kyle D., Troy B., Kevin R., Remy M., Alannah C., Brennen P.)
P.S. We've got our coffee & banana's ready! :)
10th Line Shore
Aberarder
Aberdeen
Aberfeldy
Aberfoyle
Abingdon
Achill
Actinolite
Actons Corners
Adamsville
Adanac
Addison
Adelaide
Admaston
Adolphustown
Agerton
Agincourt
Agincourt North
Ahmic Harbour
Ahmic Lake
Aikensville
Ailsa Craig
Airlie
Airy
Ajax
Albert
Alberton
Albion
Albion Falls
Albuna
Albury
Alcona
Aldborough
Alder
Aldershot
Alderslea
Alderville
Alderwood
Aldred's Beach
Alexandria
Alfred
Algonquin
Algonquin Park
Alice
Allan
Allan Mills
Allan Park
Allanburg
Allans Corners
Allen's Corners
Allenford
Allensville
Allenwood
Allenwood Beach
Allisonville
Alliston
Alloa
Allsaw
Alma
Almira
Almonte
Alpine Village
Alport
Alsfeldt
Alsops Beach
Alta Vista
Althorpe
Alton
Altona
Alvanley
Alvinston
Ambassador Beach
Amberley
Ambleside
Ameliasburg
Amherst Pointe
Amherstburg
Amherstview
Amigari Downs
Amigo Beach
Amulree
Ancaster
Ancaster Heights
Ancona Point
Anderson
Andrewsville
Andy's Corners
Angers
Angus
Annable Settlement
Annan
Anoma Lea
Ansnorveldt
Anson
Anstruther Lake
Anten Mills
Antrim
Appin
Apple Hill
Appleby
Appledore
Appleton
Applewood Acres
Applewood Heights
Applewood Hills
Apsley
Apto
Arbeatha Park
Archer
Ardbeg
Arden
Ardendale
Ardmore Beach
Ardoch
Ardtrea
Argyle
Ariss
Arkell
Arklan
Arkona
Arkwright
Arlington Woods
Armadale
Armbro Heights
Armitage
Armour Heights
Armow
Armstrong Mills
Armstrongs Corners
Arner
Arnott
Arnprior
Arranvale
Arthur
Arthur's Corners
Arva
Ash
Ashburn
Ashburnham
Ashby Mill
Ashdad
Ashdale
Ashgrove
Ashton
Ashton Station
Ashworth
Aspdin
Asselstine
Assumption
Atha Road
Athens
Atherley
Atherton
Athlone
Athol
Atironto
Atkinson
Attercliffe
Attercliffe Station
Atwood
Auburn
Auburn Mills
Auden Park
Audley
Augsburg
Aurora
Avalon Park
Avening
Avery Point
Avon
Avonbank
Avondale
Avonmore
Avonry
Avonton
Axe Lake
Aylen Lake
Aylesworth
Aylmer
Ayr
Ayton
Baby Point
Babys Point
Baddow
Baden
Badenoch
Badger's Corners
Badjeros
Baelstadt
Bagnall
Baie du Doré
Baie-Noire
Bailieboro
Bainsville
Bala
Bala Park
Balaclava
Balderson
Baldoon
Baldwin
Baldwins Bridge
Balfour Beach
Ballantrae
Ballinafad
Ballycanoe
Ballycroy
Ballydown Beach
Ballyduff
Ballymote
Balm Beach
Balmoral
Balmoral Park
Balmy Beach
Balsam
Balsam Grove
Balsam Hill
Baltics Corners
Baltimore
Balvenie
Bamberg
Banbury
Bancroft
Banda
Bangor Lodge
Banks
Banner
Bannockburn
Baptiste
Bar Point
Barb
Barber's Beach
Barclay
Barcovan Beach
Bardsville
Barkway
Barlochan
Barnesdale
Barrett Chute
Barretville
Barrhaven
Barrhead
Barrie
Barriefield
Barrillia Park
Barrow Bay
Barry's Bay
Barrymere
Barryvale
Bartonville
Basin Depot
Basingstoke
Baskin's Beach
Bass Lake Park
Bassin-du-Lièvre
Batawa
Bath
Batteaux
Battersea
Baxter
Baxters Corners
Bay Beach
Bayfield
Bayridge
Bayshore
Bayshore Estates
Bayshore Village
Bayside
Baysville
Bayview
Bayview Beach
Bayview Park
Bayview Point
Bayview Village
Baywood Park
Beach O'Pines
Beachburg
Beachville
Beacon Heights
Beacon Hill North
Beacon Hill South
Beaconsfield
Beaconwood
Beales Mills
Bealton
Beamsville
Bear Cave
Bear Lake
Bear Line
Bear Point
Bearbrook
Beatrice
Beatty
Beaumaris
Beaumonde Heights
Beaver Dams
Beaver Meadow
Beaverdale
Beavers Corner
Beaverton
Becher
Becketts Bridge
Becketts Creek
Becketts Landing
Beckstead
Bedell
Bedford
Bedford Mills
Bedford Park
Beech Corners
Beechmount
Beechwood
Beeton
Bel Air Heights
Bel Air Park
Belangers Corner
Belcreft Beach
Belfast
Belford
Belfountain
Belgrave
Belhaven
Bell Ewart
Bell Rapids
Bellamys
Bellamys Mill
Belle Air Beach
Belle River
Belle-eau-Claire Beach
Belleview Beach
Belleville
Bellheck
Bellrock
Bells Corners
Bells Crossing
Bellwood
Belmeade
Belmont
Belmore
Belton
Belwood
Bendale
Benmiller
Bennies Corners
Bennington
Bennington Heights
Benoit
Bensfort Bridge
Bensfort Corners
Bent River
Bentinck
Bentpath
Berkeley
Berkshire Village
Berlett's Corners
Berriedale
Berrys
Berryton
Bervie
Berwick
Bessemer
Bethany
Bethel
Bethesda
Bethune Bush
Beveridge Locks
Beverley Acres
Beverley Hills
Beverley Isles
Bewdley
Bexley
Bickford
Bieman's Corners
Big Bay
Big Bay Point
Big Cedar
Big Cedar Point
Big Chute
Bigwin
Bill's Corners
Billings Bridge
Binbrook
Binkham
Birch Cliff
Birch Point
Birchmount Park
Birchwood
Birdell
Birds Creek
Birdsalls
Birge Mills
Birkendale
Birnam
Birr
Bishop Corners
Bishops Mills
Bishopsgate
Bismarck
Bisseltown
Black Bank
Black Bay
Black Bridge
Black Creek
Black Donald
Black Horse
Black Horse Corner
Black Rapids
Black River
Blackburn
Blackburn Hamlet
Blackheath
Blacks Corners
Blackstock
Blackstone Lake
Blackwater
Blackwell
Blair
Blairhampton
Blairs Settlement
Blairton
Blake
Blakeney
Blanchards Hill
Blanche-Mills
Blandford Station
Blantyre
Blenheim
Blessington
Blezard
Blink Bonnie
Bloomfield
Bloomingdale
Bloomington
Bloomsburg
Bloordale Gardens
Blossom Park
Blount
Blue Church
Blue Corners
Blue Mountain
Blue Mountains
Blue Springs
Blue Water Beach
Bluevale
Bluewater
Bluewater Beach
Blyth
Blytheswood
Bobcaygeon
Bobs Lake
Bogart
Bogarttown
Bogies Beach
Bognor
Bolingbroke
Bolsover
Bolton
Bon Echo
Bon Secours Beach
Bona Vista
Bonarlaw
Bond Head
Bond's Corners
Bondi Village
Bongard
Bongard Corners
Bonnechere
Bonnie Beach
Bonville
Bookton
Boothville
Borden
Borden Farm
Bordenwood
Bornholm
Bornish
Boskung
Boston
Boston Mills
Bosworth
Botany
Bothwell
Bothwell's Corner
Boucks Hill
Boulter
Bourdeau
Bourget
Bowen Corner
Bowermans
Bowers Beach
Bowesville
Bowling Green
Bowmanville
Bowood
Box Grove
Boyds
Boyle
Boyne
Bracebridge
Brackenrig
Bradburn Subdivision
Bradens Bay
Bradford
Bradford West Gwillimbury
Bradley
Bradshaw
Brady Lake
Braeheid Survey
Braemar
Braemar Park
Braeside
Bramalea
Bramalea Woods
Brampton
Branchton
Brandy Point
Brant Hills
Brantford
Braund Port
Breadalbane
Brechin
Brechin Beach
Brechin Point
Breckenridge
Breezy's Corners
Brentwood
Breslau
Brewer Lake
Brewers Mills
Briargreen
Briars Park
Brickley
Bridge End
Bridgenorth
Bridgeport
Bridgeview
Bridgeview Survey
Bridlewood
Brier Hill
Brigden
Bright
Brighton
Brighton Beach
Brights Grove
Brightside
Brimstone
Brinkman's Corners
Brinsley
Brinston
Brisbane
Brisson
Bristol
Bristol Mines
Britannia
Britannia Bay
Britannia Heights
Britannia Road
Britton
Broadbent
Brock Gardens
Brock Road
Brockley
Brocks Beach
Brocksden
Brockville
Brodhagen
Brodie
Bromley
Bronson
Bronte
Brooke
Brookfield
Brooklin
Brooks Landing
Brooks Mill
Brooksdale
Brookside
Brookville
Brotherston
Brougham
Broughdale
Brouseville
Brown Hill
Brown House Corner
Brown's Corners
Browning Island
Browns Brae
Brownsville
Bruce Farm
Brucedale
Brucefield
Bruces
Bruceton
Brudenell
Brumsfield
Brunner
Brunswick
Brussels
Bryanston
Buchanan
Buck Lake
Buckham's Bay
Buckhorn
Budd Mills
Buena Vista Park
Buffalo Heights
Bulgers Corners
Buller
Buller Siding
Bullock
Bullocks Corners
Bunessan
Bunker Hill
Bunyan
Bur Creek
Burford
Burgess Mines
Burgessville
Burgoyne
Burk's Falls
Burke Settlement
Burketon Station
Burleigh Falls
Burlington
Burlington Beach
Burnaby
Burnbrae
Burnhamthorpe
Burnley
Burns
Burnside
Burnstown
Burnt Hills
Burnt River
Burr
Burridge
Burritts Rapids
Burtch
Burton
Burys Green
Bush Glen
Busy Bee Corners
Buttermilk Falls
Butternut Bay
Buttonville
Byersville
Byng
Byrnedale
Byron
Cabbagetown
Cachet
Cadmus
Caesarea
Cahore
Cainsville
Caintown
Cairngorm
Cairo
Caistor Centre
Caistorville
Calabogie
Calamity Corners
Calderwood
Caledon
Caledon East
Caledon Village
Caledonia
Caledonia Front
Caledonia Springs
California
Calton
Calumet
Calvin Park
Camborne
Cambray
Cambridge
Cambridge Forest Estates
Camden East
Camel Chute
Camelot Beach
Cameron
Camerons Point
Camilla
Camlachie
Camp Kagawong
Camp Oconto
Campania
Campbell Maxwell Front
Campbellcroft
Campbellford
Campbells Beach
Campbells Corners
Campbells Cross
Campbellton
Campbelltown
Campbellville
Campden
Camperdown
Canaan
Canal
Canborough
Candyville
Canfield
Cankerville
Cannamore
Cannifton
Canning
Cannington
Canoe Lake
Canonto
Canton
Cape Chin
Cape Chin North
Cape Chin South
Cape Croker
Caradoc
Cardiff
Cardinal
Cardinal Heights
Cardwell
Cargill
Carholme
Carleton Heights
Carleton Place
Carleton Square
Carley
Carleys Corner
Carling
Carlingford
Carlington
Carlingwood
Carlisle
Carlow
Carlsbad Springs
Carlsruhe
Carlton Park
Carluke
Carlyon
Carman
Carmel
Carmunnock
Carnarvon
Carnegie Beach
Caroline Village
Carp
Carr's Landing
Carrville
Carrying Place
Carson Grove
Carsonby
Carthage
Carthew Bay
Cashel
Cashions Glen
Cashtown Corners
Cass Bridge
Cassburn
Cassel
Casselman
Castile
Castle Glen Estates
Castle Green
Castle Heights
Castlederg
Castleford
Castlemore
Castleton
Caswell's Beach
Cataract
Cataraqui
Catchacoma
Cathcart
Cavan
Caverlys Landing
Cawaja Beach
Cayuga
Cazaville
Cecebe
Cedar Bay
Cedar Beach
Cedar Creek
Cedar Croft
Cedar Dale
Cedar Glen
Cedar Grove
Cedar Harbour
Cedar Hill
Cedar Lake
Cedar Mills
Cedar Mount
Cedar Nook
Cedar Point
Cedar Shores
Cedar Springs
Cedar Valley
Cedar Village
Cedarbrae
Cedardale
Cedarhurst Beach
Cedarhurst Park
Cedarmont Beach
Cedarvale
Cedarville
Centennial
Central
Central Park
Centralia
Centre
Centre Dummer
Centre Inn
Centrefield
Centrepointe
Centreton
Centretown
Centreview
Centreville
Centurion
Ceylon
Chabot
Chaffeys Locks
Chambers Corners
Champlain Park
Chandos Lake
Chantler
Chantry
Chapeau
Chapman
Charing Cross
Charlemont
Charleston
Charleville
Charnwood
Chase Corners
Chatboro
Chatham
Chatham-Kent
Chats Haven
Chatsworth
Chatterton
Cheapside
Cheddar
Chedoke Park
Cheeseborough
Chelsea Green
Cheltenham
Chemong Heights
Chemong Park
Chenaux
Cheney
Chepstow
Cherry Grove
Cherry Heights
Cherry Lane Estates
Cherry Valley
Cherrywood
Cherrywood Acres
Chesley
Chesterfield
Chesterville
Chestnut Hills
Chetwynd
Chichester
Chikopi
Childs Mines
Chippawa
Chippawa Hill
Chippewa
Chiselhurst
Chisholm's Mills
Christian Island
Christie Beach
Christie Lake
Christies Corner
Christina
Churchill
Churchill Heights
Churchville
Chute-à-Blondeau
Chute-du-Grand-Calumet
City View
Clachan
Claireville
Clairlea
Clanbrassil
Clandeboye
Clappison's Corners
Claraday
Clardon Beach
Clare
Claremont
Clarence
Clarence Creek
Clarence-Rockland
Clarendon Station
Clarina
Clarington
Clarke
Clarke's Corners
Clarkes Hollow
Clarks Church
Clarks Corners
Clarksburg
Clarksdale
Clarkson
Claude
Clavering
Clay Bank
Clay Hills
Clay Valley
Clayton
Clear Creek
Clear Lake
Cleardale
Clearview
Clearview Estates
Clearview Heights
Clearville
Clearwater Beach
Cliffcrest
Clifford
Cliffside
Clifton
Clinton
Clontarf
Clover Valley
Cloverdale
Cloyne
Clyde
Clyde Forks
Clydesville
Coatsworth
Cobble Hill
Cobden
Coboconk
Cobourg
Codes Corner
Codrington
Cody's Corners
Coe Hill
Cognashene
Coin-chez-Leblanc
Coins Gratton
Colbeck
Colborne
Colchester
Cold Springs
Coldsprings
Coldstream
Coldwater
Cole Lake
Cole Wharf
Colebrook
Coleman's Shore
Colemans
Coleraine
Colgan
Colinville
Collingwood
Collins Bay
Collison Heights
Colpoy's Bay
Colquhoun
Columbus
Colwell
Comber
Combermere
Comet
Community Beach
Concord
Concord Point
Conestogo
Confederation Heights
Coningsby
Conn
Connaught
Connaught Shore
Connellys
Connor
Conover
Conroy
Consecon
Constance Bay
Constant Creek
Convent Glen
Conway
Cooke's Shore
Cooks Mills
Cookstown
Cooksville
Cooper
Cooper's Trailer Park
Coopers Falls
Cootes Paradise
Copeland Park
Copenhagen
Copetown
Copp
Copperhead
Copperkettle
Coppin's Corners
Corbett
Corbetton
Corbyville
Cordova Mines
Corinth
Corkery
Corktown
Cormac
Cornell
Cornwall
Cornwall Centre
Cornwall Island
Coronation Gardens
Coronation Park
Corsons
Corunna
Corwhin
Corwin Crescent
Cosy Cove
Côte-d'Azur
Cotieville
Cotnam Island
Cotswold
Cottam
Cottesloe
Coulson
Coulson's Hill
Coulterville
Country Hills
Country Place
County of Brant
Courtice
Courtland
Courtland Park
Courtright
Coutnac Beach
Cove Beach
Coventry
Coverdale
Cowan's Bay
Coxvale
Coyle
Craig Henry
Craig Shore
Craighurst
Craigleith
Craigmawr Beach
Craigmont
Craigsholme
Crampton
Cranbrook
Cranston
Crathie
Crawford
Crawford's Grove
Crediton
Creditville
Creek Bank
Creemore
Creighton
Creighton Heights
Crescent Bay
Crescent Beach
Crescent Harbour
Crescent Park
Crescent Town
Cresswell
Cressy
Crestview
Crewe
Crewsons Corners
Crieff
Crinan
Crofton
Cromar
Cromarty
Crombies
Crooked Bay
Crooked Creek
Crookston
Crosby
Cross Lake
Crosshill
Crossland
Crossley Hunter
Croton
Crow Lake
Crowe Bridge
Crowes Landing
Crowland
Crown Hill
Croydon
Cruickshank
Crumlin
Crysler
Crystal
Crystal Bay
Crystal Beach
Crystal Rock
Crystal Springs
Culloden
Cultus
Cumberland
Cumberland Beach
Cumnock
Cundles
Cunningham's Corners
Curran
Curries
Curry Hill
Curve Lake
Cushendall
Cushing
Cyrville
Dacre
Dain City
Dale
Dalhousie
Dalhousie Lake
Dalhousie Mills
Dalkeith
Dalmeny
Dalrymple
Dalston
Damascus
Dancaster Courts
Darbyville
Dardanelles
Darling Road
Darlingside
Darrell
Dartford
Dashwood
Davidson Corner
Davidson's Corners
Davidsons Beach
Davis Lock
Davis Mills
Davisville
Dawn Mills
Dawn Valley
Daytonia Beach
Daytown
De Grassi Point
Deacon
Dealtown
Deanlea Beach
DeCew Falls
Decewsville
Decker Hollow
Deckers Hill
Dee Bank
Deemerton
Deep Bay
Deer Bay
Deer Lake
Deer Park
Deerbrook
Deerhurst
Dejong
Del Ray
Delaware
Delaware West
Delhi
Delisle's Corners
Delmer
Deloro
Delrex
Delta
Demers
Demers-Centre
Demorestville
Denbigh
Denfield
Depot Harbour
Dereham Centre
Derry West
Derrynane
Derryville
Derwent
Desboro
Deseronto
Desert Lake
Desjardinsville
Desmond
Detlor
Devizes
Dewars
DeWitts Corners
Dexter
Dickson Hill
Dicksons Corners
Dillon
Dirleton
Dixie
Dixon
Dixons Corners
Dobbinton
Doe Lake
Dogs Nest
Domaine-Glenwood
Domaine-Taillefer
Dominionville
Domville
Don Mills
Don Vale
Donald
Donaldson
Donegal
Dongola
Donnybrook
Donwood
Doon
Dorchester
Doré Bay
Dorking
Dorland
Dornie
Dornoch
Dorset
Dorset Park
Douglas
Douglastown
Douro
Dover Centre
Dover Heights
Downers Corners
Downeys
Downeyville
Downsview
Doyles
Dracon
Drayton
Dresden
Drew
Dromore
Drumbo
Drummond
Drummond Centre
Drummond Heights
Drumquin
Dryden
Drysdale
Duart
Dublin
Duclos Point
Dudley
Duff Corners
Duff's Corners
Dufferin Bridge
Duffyville
Dulcemaine
Dunbar
Dunbarton
Dunblane
Dunboyne
Duncan
Dunchurch
Duncrief
Dundalk
Dundas
Dundee
Dundee Centre
Dundela
Dundonald
Dundurn
Dunedin
Dungannon
Dunkeld
Dunkerron
Dunlop
Dunn's Corner
Dunnette Landing
Dunnville
Dunrobin
Dunrobin Shore
Dunsford
Duntroon
Dunvegan
Durham
Dutch Line
Duthill
Dutton
Duttona Beach
Dwight
Dwyer Hill
Dyer
Dyer's Bay
Dynes
Eady
Eagle
Eagle Lake
Eagle Place
Eaglesons Corners
Eamers Corners
Earnscliffe
East Colborne
East Gwillimbury
East Harrow
East Hungerford
East Linton
East Oakland
East Oro
East Oxford
East Windsor
East York
Eastbourne
Eastons Corners
Eastview
Eastway Gardens
Eastwood
Eatonville
Ebbs Shore
Ebenezer
Eberts
Echo Beach
Echo Place
Eddystone
Eden
Eden Grove
Eden Mills
Edenhurst
Edenvale
Edgar
Edgars
Edge Hill
Edgeley
Edgewater Beach
Edgewood Park
Edmison Heights
Edmore Beach
Edville
Edwards
Edys Mills
Effingham
Egan Creek
Eganville
Egbert
Egerton
Egmondville
Egypt
Eight Mile Point
Ekfrid
Elba
Elcho
Elco Beach
Elder
Elder Mills
Eldon
Eldorado
Eldorado Park
Electric
Elford
Elfrida
Elgin
Elgin Mills
Elginburg
Elginfield
Elimere Point
Elimville
Elizabeth Gardens
Elizabeth Park
Elizabethville
Ellengowan
Ellesmere
Elliotts Corners
Ellisville
Elm
Elm Tree
Elm Tree Corners
Elma
Elmbrook
Elmdale
Elmgrove
Elmhedge
Elmhurst Beach
Elmira
Elmside
Elmstead
Elmvale
Elmvale Acres
Elmwood
Eloida
Elora
Elphin
Elsinore
Elzevir
Embro
Embrun
Emerald
Emery
Emeryville
Empey Hill
Empire Corners
Emsdale
Enfield
English Line
Ennisclare Park
Enniskerry
Enniskillen
Ennismore
Ennotville
Enterprise
Epping
Epsom
Eramosa
Erbsville
Erie
Erie Beach
Erie Curve
Erie Rest
Erie View
Erieau
Erin
Erin Mills
Erindale
Erindale Woodlands
Eringate
Erinsville
Errol
Escott
Esmonde
Essa
Essex
Essonville
Ethel
Ethel Park
Etobicoke
Eton Court
Etonia
Ettrick
Ettyville
Etwell
Eugenia
Evans Corner
Evanturel
Evelyn
Everett
Eversley
Everton
Ewan
Exeter
Eyre Corners
Facer
Fair Valley
Fairbairn Meadows
Fairbank
Faircrest
Fairfax
Fairfield
Fairfield East
Fairfield Heights
Fairfield Plain
Fairground
Fairhaven
Fairholme
Fairholme Park
Fairmont
Fairmount
Fairplay
Fairport
Fairport Beach
Fairview
Fairview Island
Falconbridge
Falding
Falgarwood
Falkenburg Station
Falkland
Fallbrook
Fallowfield
Falls View
Fanshawe
Faraday
Farewell
Farlain Lake
Farmer's Rapids
Farmington
Farnham
Farquhar
Farrell Corners
Fassett
Fassifern
Fawcettville
Fawn Bay
Featherstone
Fee's Landing
Feir Mill
Felton
Fenaghvale
Fenella
Fenelon Falls
Fennell
Fenwick
Fenwood Gardens
Fergus
Fergus Hill Estate
Ferguslea
Ferguson Corners
Fergusons Beach
Fergusons Falls
Fergusonvale
Ferme-Limbour
Fermoy
Fern Glen
Fernbank
Ferndale
Ferndell
Fernhill
Fernleigh
Fesserton
Feversham
Ficko
Fife's Bay
Filey Beach
Finch
Fingal
Fingerboard
Firth's Corners
Fisher Glen
Fisher Heights
Fisher Mills
Fisher Park
Fishers Glen
Fisherville
Fiskes Corners
Fitzroy
Fitzroy Harbour
Five Corners
Flamboro Centre
Flamborough
Flanders Heights
Flannigan Corners
Fleetwood
Flemingdon Park
Flesherton
Fletcher
Flinton
Flinton Corner
Flood's Landing
Floradale
Floral Park
Florence
Florida
Flower Station
Flynns Turn
Foldens
Folger
Fontainebleau
Fonthill
Foot's Bay
Forbes
Fordwich
Fordyce
Forest
Forest Estates
Forest Glade
Forest Harbour
Forest Heights
Forest Hill
Forest Hills
Forest Home
Forest Lea
Forest Mills
Forest Park
Foresters Falls
Forestville
Forfar
Forget
Forks of the Credit
Forks Road
Formosa
Fort Erie
Fort Erie Beach
Fort Erie North
Fort Henry Heights
Fort Irwin
Fort Stewart
Fortescue
Forthton
Forward
Foster Farm
Fountain Beach
Four Ponds Corners
Fournier
Fourth Chute
Fourth Line
Fowlers Corners
Fox Corners
Fox Point
Fox's Corners
Foxboro
Foxmead
Foymount
Fralick's Beach
Franceville
Frankford
Franklin
Franklin Beach
Franklins Corners
Franktown
Frankville
Fraserburg
Frasers Corners
Fraserville
Frayn's Landing
Freeland
Freelton
Freeman
Freeman Corners
Fremo Corners
French Hill
French Line
French Settlement
Friendly Corners
Froatburn
Froggetts Corners
Frogmore
Frome
Froomfield
Fruitland
Fullarton
Fuller
Fulton
Fultons
Furnace Falls
Gads Hill
Gagnon
Galbraith
Galena Hill
Galesburg
Galetta
Gallingertown
Galt
Galts Corner
Gamebridge
Gamebridge Beach
Gananoque
Gannon Beach
Gannon Village
Garafraxa Woods
Garden Hill
Garden of Eden
Gardenville
Garners Corners
Garnet
Garretton
Garryowen
Gasline
Gatineau
Gaud Corners
Gelert
Geneva Park
Georgetown
Georgian Beach
Georgian Heights
Georgian Highlands
Georgian Sands Beach
Georgina
Georgina Beach
Georgina Island
German Landing
German Mills
German Settlement
Germania
Germanicus
Gerrow's Beach
Gesto
Gibraltar
Gibson
Gilbert Mills
Gilbertville
Gilchrist
Gilchrist Bay
Gildale
Gilford
Gilford Beach
Gill
Gillies Corners
Gillies Hill
Gillies Lake
Gillson's Point
Gilmour
Glabar Park
Gladstone
Glammis
Glamorgan
Glandine
Glanford Station
Glanmire
Glanworth
Glascott
Glasgow
Glasgow Station
Glastonbury
Glen
Glen Agar
Glen Alda
Glen Allan
Glen Andrew
Glen Becker
Glen Buell
Glen Cairn
Glen Cairn Woods
Glen Cross
Glen Echo
Glen Eden
Glen Elbe
Glen Falloch
Glen Gordon
Glen Grove
Glen Huron
Glen Leven
Glen Major
Glen Meyer
Glen Miller
Glen Morris
Glen Nevis
Glen Norman
Glen Oak
Glen Orchard
Glen Rae
Glen Robertson
Glen Ross
Glen Sandfield
Glen Smail
Glen Stewart
Glen Tay
Glen Walter
Glen Williams
Glenannan
Glenarm
Glenbrook
Glenburn
Glenburnie
Glencairn
Glencoe
Glencolin
Glendale
Glendale Beach
Glendower
Glenelg Centre
Glenfield
Glenhaven Beach
Glenlee
Glenmore
Glenmount
Glenora
Glenorchy
Glenrest Beach
Glenridge
Glenroy
Glenshee
Glenvale
Glenview
Glenview Heights
Glenville
Glenway Village
Glenwood
Glenwood Beach
Glenwood Heights
Glenwood Park
Gloucester
Gloucester Glen
Go Home
Gobles
Goderich
Godfrey
Godolphin
Golden Beach
Golden Hill
Golden Lake
Goldfield
Goldsmith
Goldstone
Golf Side Gardens
Golspie
Gooderham
Goodfellow Beach
Goodstown
Goodwood
Gordon Bay
Gordonville
Gores Landing
Gorewood Acres
Goring
Gormley
Gorrie
Goshen
Gosport
Gotham
Government Road
Gowanstown
Grafton
Graham Park
Grahamsville
Grand Bend
Grand Valley
Grande Pointe
Grande-Presqu'île
Grandview
Grandview Beach
Granger
Grantham
Grantley
Granton
Grants Corners
Grants Settlement
Graphite
Grasshill
Grassie
Grassmere
Gravel Hill
Gravenhurst
Gray's Beach
Grays
Grays Bay
Greater Napanee
Greece's Point
Greely
Green Acres
Green Lake
Green Lane
Green Park
Green River
Green Valley
Greenbank
Greenboro
Greenbush
Greenfield
Greenhill
Greenhurst-Thurstonia
Greenlands
Greenleys Corners
Greenly's Corners
Greenock
Greenpoint
Greens Corner
Greens Corners
Greenside Acres
Greensville
Greenview
Greenway
Greenwood
Gregory
Grenadier Island
Grenfell
Grenfell Glen
Grenville
Grenville Bay
Grenville Park
Grenville-sur-la-Rouge
Gretna
Griersville
Grieves Corners
Griffis Corners
Griffith
Grimmonds Beach
Grimsby
Grimsby Beach
Grimsby Centre
Grimston
Grove Park
Grovesend
Groveton
Guaytown
Guelph
Guerin
Guilds
Guildwood Estates
Guildwood Village
Guiney
Gull Creek
Gull Rock
Gunter
Gunters
Gustin Grove
Guthrie
Habermehl
Haddo
Hagerman's Corners
Hagersville
Hagles Corners
Haines Lake
Hainsville
Haldane Hill
Haldimand County
Haley Station
Halfway
Halfway House Corner
Halfway Point
Haliburton
Hall
Hall Glen
Hall Landing
Hallecks
Halloway
Hallowell
Halls Lake
Halls Mills
Hallville
Halpenny
Halstead Beach
Halsteads Bay
Halston
Halton Hills
Haltonville
Hamer Bay
Hamilton
Hamilton Beach
Hamilton Corner
Hamilton Heights
Hamiltonsfield
Hamlet
Hammertown
Hammond
Hampden
Hampelsfield
Hampshire Mills
Hampstead
Hampton
Hampton Heights
Hampton Park
Hanlan
Hanover
Happy Hollow
Happy Valley
Happyland
Harburn
Harcourt
Hardwood Lake
Harkaway
Harlem
Harley
Harlock
Harlowe
Harmony
Harmony Hall II
Harney's Corner
Harper
Harper Corners
Harpurhey
Harriets Corners
Harrietsville
Harrington
Harrisburg
Harrisons Corners
Harriston
Harrow
Harrowsmith
Harry's Corner
Hartford
Hartington
Hartley
Hartsmere
Harwood
Harwood Plains
Hastings
Hatchley
Hatherton
Haultain
Havelock
Havergal
Hawkes
Hawkesbury
Hawkestone
Hawkestone Beach
Hawkesville
Hawkins Corners
Hawley
Hawthorne Meadows
Hawtrey
Hay
Hay Bay
Hay's Shore
Hayburn
Haydon
Hayes Corners
Hayesland
Haysville
Hazeldean
Hazzards Corners
Head Lake
Headford
Healey Falls
Healey's Heath
Hearts Desire
Heathcote
Heckston
Heidelberg
Hekkla
Hemlock
Hemlock Corners
Hemlock Downs
Hemstock Mills
Henderson
Henderson Place
Henfryn
Henley
Henry Farm
Henrys Corner
Hensall
Hepworth
Herbert Corners
Hereward
Heritage Park
Hermon
Heron Gate
Heron Park
Herrons Corners
Herrons Mills
Hespeler
Hesson
Heyworth
Hiawatha
Hiawatha Park
Hickey Settlement
Hickory Beach
Hickory Corner
Hickson
Hidden Valley
High Falls
High Gate Park
High Park
Highfield
Highgate
Highland Beach
Highland Creek
Highland Glen
Highland Grove
Highland Park
Highland Park Survey
Highland Point
Highview Survey
Hillcrest
Hillcrest Village
Hillendale
Hillhead Corners
Hillier
Hills Green
Hillsborough Beach
Hillsburgh
Hillsdale
Hillside
Hillview
Hilton
Hinch
Hink's Corners
Hintonburg
Hoards
Hoasic
Hoath Head
Hockley
Hockley Valley
Hoffman
Hogg
Hogs Back
Holbrook
Holford
Holiday
Holiday Harbour
Holland
Holland Centre
Holland Landing
Holleford
Hollen
Holly
Holly Park
Holmedale
Holmes Point
Holmesville
Holstein
Holt
Holton Heights
Holyrood
Homer
Honey Harbour
Honey's Beach
Honeygables
Honeywell Corners
Honeywood
Hood
Hope
Hope Bay
Hopefield
Hopeness
Hopetown
Hopeville
Hopkins Corners
Hopkins Court
Hopkins Survey
Hornby
Horning's Mills
Horseshoe Lake
Horseshoe Valley
Hotspur
Houghton Centre
Houseys Rapids
Howdenvale
Howes Corners
Howland
Hubbs
Hubrey
Huckabones Corners
Huff Wharf
Huff's Corners
Huffman Corners
Huffs Corners
Hughes
Hulbert
Humber Bay
Humber Grove
Humber Summit
Humber Valley
Humberlea
Humberside
Humberstone
Humphrey
Hungerford
Hunt Club
Hunt Club Park
Huntingford
Huntley
Huntsville
Hurdman's Bridge
Hurds Lake
Hurdville
Huron East
Huron Heights
Huron Park
Huron Ridge
Hurondale
Hutchins Corners
Hutchisons Corners
Hutton Heights
Huttonville
Hybla
Hyde Park
Hydro Glen
Hyndford
Hyndman
Ida
Ida Hill
Ilderton
Ilfracombe
Inch Park
Indian Point
Indian River
Indianola Beach
Ingersoll
Ingle
Ingleside
Inglewood
Inglis Falls
Ingoldsby
Inholmes
Inkerman
Innerkip
Innes Park
Innisfil
Innisfil Heights
Innisfil Park
Innisville
Inverary
Invererie Heights
Inverhaugh
Inverhuron
Invermay
Inverness Lodge
Inwood
Iona
Iona Station
Ionview
Ipperwash Beach
Ireland
Irena
Irish Lake
Irondale
Ironsides
Iroquois
Isaacs Glen
Ishpiming Beach
Island Grove
Island View Beach
Islay
Isle of Skye
Islington
Ivan
Ivanhoe
Ivy
Ivy Lea
Jack Lake
Jackson
Jackson Heights
Jacksonburg
Jacksons Point
Jaffa
Jamestown
Jamesville
Janetville
Jardins-Alexandre-Taché
Jardins-Mackenzie-King
Jarratt
Jarvis
Jasper
Jeannettes Creek
Jefferson
Jellyby
Jericho
Jermyn
Jersey
Jerseyville
Jessopville
Jessups Falls
Jevins
Jewellville
Jockvale
Joes Lake
Johnson
Johnston Corners
Johnstown
Jones Falls
Jordan
Jordan Harbour
Jordan Station
Jorgens
Josephsburg
Joyceville
Joyland Beach
Juddhaven
Judgeville
Junetown
Juniper Island
Jura
Kahshe Lake
Kaladar
Kanata
Kars
Kasshabog Lake
Kaszuby
Katrine
Kawartha Heights
Kawartha Hideaway
Kawartha Lakes
Kawartha Park
Keadon Park
Keady
Kearney
Keelerville
Keelesdale
Keenansville
Keene
Keldon
Keller Bridge
Kellers
Kellys Corner
Kelso
Kelvin
Kemble
Kempark
Kemptville
Kendal
Kendry
Keneden Park
Kenhill Beach
Kenilworth
Kenmore
Kennaway
Kennedy Acres
Kennedy Bay
Kennedy Park
Kennicott
Kennisis Lake
Kenrei Park
Kensal Park
Kenson Park
Kenstone Beach
Kent
Kent Bridge
Kent Centre
Kent Gardens
Kepler
Kerr Line
Kertch
Kerwood
Keswick
Keswick Beach
Kettle Point
Kettle's Beach
Kettleby
Keward
Keyser
Khartum
Khiva
Kilbride
Kilcoo Camp
Kilgorie
Killaloe
Killarney Beach
Killbear Park
Killean
Kilmanagh
Kilmarnock
Kilmartin
Kilmaurs
Kilroy Crescent
Kilsyth
Kilworth
Kilworthy
Kimball
Kimberley
Kimberley Park
Kimbo
Kinburn
Kincardine
King City
King Creek
King Pitt
King's Forest
Kingarf
Kinghorn
Kinghurst
Kinglake
Kings Wharf
Kingsbridge
Kingscote
Kingscourt
Kingscross Estates
Kingsford
Kingsmere
Kingsmill
Kingston
Kingston Mills
Kingsview Park
Kingsview Village
Kingsville
Kingswood Acres
Kingwood
Kinhuron
Kinkora
Kinloss
Kinlough
Kinmount
Kinnaird
Kinsale
Kintail
Kintore
Kintyre
Kiowana Beach
Kipling Heights
Kippen
Kirby
Kirk Cove
Kirkfield
Kirkhill
Kirkton
Kirkwall
Kitchener
Kleinburg
Klie's Beach
Klondyke
Klueys Bay
Knox Landing
Kohler
Kolapore
Komoka
Kossuth
Kramer Subdivision
Kuhryville
Kumpfville
Kunda Park
Kurtzville
L'Amable
L'Ange-Gardien
L'Île-Saint-Régis
L'Isle-aux-Allumettes
L'Orignal
La Blouse
La Fourche
La Nation
La Renouche
La Sablonnière
La Salette
La Salle
La Seigneurie
Lac-des-Fées
Lady Bank
Ladysmith
Lafontaine
Lafontaine Beach
Laggan
Lagoon City
Lake
Lake Bernard
Lake Charles
Lake Clear
Lake Dalrymple
Lake Doré
Lake Erie Country Club
Lake Huron Highland
Lake on the Mountain
Lake Opinicon
Lake Park
Lake Rosalind
Lake St. Peter
Lakefield
Lakehurst
Lakeland Acres
Lakeland Point
Lakelet
Lakeport
Lakeshore
Lakeshore Village
Lakeside
Lakeside Beach
Lakeview
Lakeview Beach
Lakeview Estates
Lakeview Heights
Lakeview Park
Lakewood
Lakewood Beach
Lambert
Lambeth
Lambs Corners
Lambton Mills
Lambton Shores
Lamlash
Lammermoor
Lanark
Lancaster
Lancelot
Landerkin
Lanes
Lang
Langford
Langman
Langside
Langstaff
Langton
Lansdowne
Lansing
Largie
Larkins
LaRue Mills
LaSalle
LaSalle Park
Laskay
Lasswade
Latchford Bridge
Latimer
Latta
Lauderbach
Laurel
Laurentian Hills
Laurentian View
Laurin
Lauriston
Lavant
Lavant Station
Lavender
Lawrence Heights
Lawrence Manor
Lawrence Park
Lawrence Station
Lawton's Corners
Layton
Le Baron
Le Carrefour
Le Coteau
Le Flat
Le Haut-de-la-Chute
Le Landing
Le Mont-Bleu
Le Mont-Luc
Le Trou
Leadbury
Leamington
Leaside
Leaskdale
Lebanon
Leckie Park
Ledgerwoods Corner
Leeds
Lefaives Corners
Lefaivre
Lefroy
Leggatt
Legge
Lehighs Corners
Leith
Leitrim
Leland
Lemieux
Lemonville
Lens
Leonard
Leonards Beach
Les Prés-de-Chelsea
Leskard
Leslie Park
Letterbreen
Letterkenny
Letts Corners
Levergood Beach
Lewis Corners
Lewisham
Lieury
Lifford
Lillies
Lily Oak
Limberlost Lodge
Lime Lake
Limehouse
Limerick
Limoges
Lincoln
Lincoln Heights
Lincolnville
Lind
Linden Beach
Linden Valley
Lindenlea
Lindenwood
Lindsay
Links Mills
Linton
Linwood
Lion's Head
Lisbon
Lisgar
Lisle
Listowel
Little Aylmer
Little Britain
Little Brockville
Little Buffalo
Little Egypt
Little Germany
Little Hawk Lake
Little Lake
Little Port Elgin
Littles Corners
Littlewood
Liverpool
Living Springs
Lloyd
Lloydtown
Lobo
Lochaber
Lochalsh
Lochiel
Lochinvar
Lochlin
Lochwinnoch
Lockerby
Locksley
Lockton
Lockwood Park
Locust Hill
Lodgeroom Corners
Lodi
Lombardy
Londesborough
London
Long Beach
Long Branch
Long Lake
Long Point
Long Sault
Longford
Longmoor
Longtinville
Longwood
Lonsdale
Lords Mills
Loree
Loretto
Lorimer Lake
Lorne
Lorne Beach
Lorne Park
Lorne Park Estates
Lorneville
Lorraine
Lost Channel
Lost Nation
Lothian
Lotus
Loughbreeze
Louise
Louisville
Lovat
Lovering
Lovett
Lowbanks
Lower Dacre
Lower Holleford
Lower Langside
Lower Stafford
Lower Wingham
Lowertown
Lowville
Loyal
Loyalist Park
Lucan
Lucasville
Lucille
Lucknow
Lueck Mill
Lumina
Lumley
Lundy's Lane
Lundys Corners
Lunenburg
Lurgan Beach
Lusk
Luton
Lutterworth
Luxemburg
Lyn
Lyndale
Lynden
Lyndhurst
Lynedoch
Lynhurst
Lynn Valley
Lynnville
Lynwood Village
Lyons
Lypps Beach
Mabee's Corners
Maberly
MacDonald Bay
MacDonald Beach
MacDonalds Grove
Maceys Bay
MacGillivrays Bridge
Macksville
MacLarens Landing
Maclean Park
MacTier
Macton
Macville
Madawaska
Madoc
Mafeking
Magnetawan
Maidstone
Mainsville
Mair Mills
Maitland
Makataewaukawauk
Malahide
Malakoff
Malcolm
Malden Centre
Mallorytown
Mallorytown Landing
Malone
Malton
Malvern
Malvern West
Manchester
Mandaumin
Manhard
Manilla
Manion Corners
Manitou Dock
Manley
Mannheim
Manor Park
Manordale
Manotick
Manotick Station
Mansewood
Mansfield
Manvers
Maple
Maple Beach
Maple Grove
Maple Hill
Maple Hills
Maple Lake
Maple Lake Park
Maple Lane
Maple Lane Annex
Maple Lawn
Maple Leaf
Maple Park
Maple Ridge
Maple Valley
Maple View
Maplegrove
Mapleton
Maplewood
Mar
Mara Beach
Marathon
Marathon Village
Marble Rock
Marburg
Marchhurst
Marchmont
Marden
Marelan
Marentette Beach
Mariatown
Marina Estates
Marion's Corner
Marionville
Mariposa
Mariposa Beach
Markdale
Markham
Markland Woods
Marlbank
Marmion
Marmora
Marnoch
Marsdale
Marsh Hill
Marshall Bay
Marshfield
Marston
Marsville
Martels Corners
Marthaville
Martin Farm
Martin Grove Gardens
Martindale Heights
Martins
Martins Corner
Martins Corners
Martins Landing
Martintown
Martinville
Martyrs Shrine
Marvelville
Marvin Heights
Marygrove
Maryhill
Marysville
Maryvale
Marywood Meadows
Maskinonge Park
Masonville
Massanoga
Massie
Matawatchan
Mathers Corners
Matthiasville
Maxville
Maxwell
Maybank
Mayerville
Mayfair
Mayfield
Mayhews Landing
Maynard
Mayne Corners
Maynooth
Maynooth Station
Maywood
McAlpine
McAlpine Corners
McArthurs Mills
McCann's Shore
McCarleys Corners
McCormick
McCracken Landing
McCrackens Landing
McCrackins Beach
McCrae
McCreary's Shore
McCrearys
McCrimmon
McCulloughs Landing
McDiarmid's Shore
McDonald Court
McDonald's Corners
McDougall
McGary Flats
McGaw
McGrath
McGregor
McGuire
McGuire Settlement
McIntosh
McIntosh Mills
McIntyre
McIver
McKay's Corners
McKay's Waterfront
McKellar
McKellar Heights
McKellar Park
McKenzie Lake
McLaren's Beach
McLarens Settlement
McLean
McLeanville
McLennan's Beach
McLeodville
McMillans Corners
McMurchy Settlement
McMurrich
McNab
McNaught
McNaughton Shore
McRae Beach
McReynolds
McRoberts Corner
McVicar
Meadow Wood
Meadowlands
Meadowvale South
Meadowvale Village
Meadowvale West
Meaford
Mechanicsville
Medina
Medina Corners
Medonte
Medway Heights
Melancthon
Melbourne
Melissa
Melrose
Melville
Melvin Settlement
Menie
Mennonite Corner
Menoke Beach
Merivale
Merivale Gardens
Merlin
Merrickville
Merrickville-Wolford
Merritton
Mertz's Corner
Metcalfe
Metropolitan
Metz
Meyersburg
Miami Beach
Micksburg
Middlemarch
Middlemiss
Middleport
Middleville
Midhurst
Midhurst Station
Midland
Midland Point
Midlothian
Midway Crossing
Milburn
Mildmay
Mile Corner
Milford
Milford Bay
Millar Hill
Millars Corner
Millars Corners
Millarton
Millbank
Millbridge
Millbrook
Milldale
Miller Lake
Miller Lake East
Miller Lake West
Millers Corner
Millgrove
Millhaven
Milliken
Mills Corners
Milltown
Milsap
Milton
Milton Heights
Milverton
Mimico
Mimico Beach
Mimosa
Minden
Mineral Springs
Miners Bay
Minesing
Minet's Point
Minett
Mink Lake
Minniehill
Minto
Mississagua Landing
Mississauga
Mississauga Beach
Mississauga Valley
Mississippi Mills
Mississippi Station
Missouri
Mitchell
Mitchell Heights
Mitchell Square
Mitchell's Bay
Mitchell's Corners
Mitchellville
Moffat
Mohawk Meadows
Mohr Corners
Moira
Molesworth
Moltke
Monck
Monck Road
Moncrieff
Moneymore
Mongolia
Monkland
Monkton
Mono
Mono Centre
Mono Mills
Mono Road
Monsell
Mont-Joie
Monteagle Valley
Montebello
Montgomery Crossing
Montgomery Park
Monticello
Montrose
Monument Corners
Moon River
Mooneys Bay
Moons Beach
Moons Corners
Moonstone
Moore Centre
Moore Falls
Moore Park
Moorefield
Moores Corners
Moores Lake
Mooresburg
Mooresville
Mooretown
Moose Creek
Mooselanka Beach
Moraviantown
Moray
Mordolphin
Morewood
Morgans Point
Morganston
Morinus
Morley
Morpeth
Morrisburg
Morrish
Morrison Lake
Morrison Landing
Morriston
Mortimers Point
Morton
Morven
Moscow
Moserville
Mossington Park
Mossley
Motherwell
Motts Mills
Moulton Station
Mount Albert
Mount Albion
Mount Brydges
Mount Carmel
Mount Charles
Mount Chesney
Mount Dennis
Mount Elgin
Mount Forest
Mount Healy
Mount Hope
Mount Horeb
Mount Irwin
Mount Joy
Mount Julian
Mount Nemo
Mount Pleasant
Mount Salem
Mount St. Louis
Mount St. Patrick
Mount Stephen
Mount Vernon
Mount View
Mount Zion
Mountain
Mountain Gardens
Mountain Grove
Mountain View
Mountain View Beach
Mountsberg
Mud Lake
Muir
Muirkirk
Muldrew Lake
Mulgrave
Mulhern
Mull
Mullifarry
Mulloys
Mulmur
Mulock
Muncey
Munro
Munroes Mills
Munster
Murchison
Murphy Beach
Murphy Corners
Murray Hill
Murrell
Murvale
Musclow
Muskoka
Muskoka Beach
Muskoka Falls
Muskoka Lodge
Musselman's Lake
Muttonville
Myers Cave
Myrehall
Myrtle
Myrtle Station
Nairn
Nakoma
Nanticoke
Nantyr
Nantyr Park
Napanee
Naphan
Napier
Napperton
Narrows
Narva
Nashville
Nassau
Nation Valley
Navan
Nayausheeng
Nelles Corners
Nelles Estates
Nelson
Nelson Park
Nenagh
Nepean
Nephton
Nestleton
Nestleton Station
Netherby
Neustadt
New California
New Canaan
New Carlow
New Credit
New Dublin
New Dundee
New Durham
New Edinburgh
New Flos
New Gamebridge Beach
New Glasgow
New Hamburg
New Lowell
New Park
New Prussia
New Sarum
New Scotland
New Tecumseth
New Toronto
New Uhthoff
New Wasaga Beach
Newark
Newbliss
Newboro
Newboyne
Newbridge
Newburgh
Newbury
Newcastle Village
Newfoundout
Newholm
Newington
Newmanville
Newmarket
Newport
Newry
Newton
Newton Brook
Newton Robinson
Newtonville
Niagara Falls
Niagara Falls Centre
Niagara Falls South
Niagara Gardens
Niagara-on-the-Lake
Nicholsons Point
Nicolston
Nile
Niles Corners
Nilestown
Nith Grove
Nithburg
Niweme
Nixon
Nobbs Siding
Nobel
Nober
Nobleton
Nogies Creek
Nolans Corners
Norfolk County
Norham
Norland
Norman
Normandale
Normanhurst
North Augusta
North Branch
North Bruce
North Buxton
North Ekfrid
North End
North Glanford
North Gower
North Hall
North Lancaster
North Lunenburg
North Oshawa
North Park
North Pelham
North Perth
North Port
North Portage
North Ridge
North Russell
North Seguin
North Thamesville
North Toronto
North Valley
North Ward
North Winchester
North Woodslee
North Woolwich
North York
Northbrook
Northcote
Northcrest
Northdale
Northfield
Northfield Station
Northwest Basin
Northwood
Northwood Park
Norval
Norvern Shores
Norway Bay
Norway Point
Norwich
Norwood
Notre-Dame-des-Champs
Nottawa
Novar
Nudell Bush
Numogate
O'Donnell Landing
O'Grady Settlement
O'Reilly's Bridge
Oak Acres
Oak Flats
Oak Heights
Oak Lake
Oak Leaf
Oak Orchard
Oak Ridges
Oak Valley
Oakdale
Oakdene Point
Oakgrove
Oakhill
Oakhill Forest
Oakland
Oakridge
Oakridge Acres
Oakridge Park
Oakview Beach
Oakville
Oakwood
Oakwood Corners
Oconto
Odessa
Ogden's Beach
Ogdensburg
Ohsweken
Oil City
Oil Springs
Ojibway
Ojibway Island
Old Cut
Old Fort
Old Fort Erie
Old Glenridge
Old Killaloe
Old Mill
Old Stittsville
Old Woman's River
Oldcastle
Oldfield
Olinda
Oliphant
Oliver
Olivet
Omagh
Omeedjilawh Camp
Omemee
Ompah
Onondaga
Ops
Orange Corners
Orangeville
Oranmore
Orchard
Orchard Beach
Orchard Grove
Orchard Heights
Orchard Park
Orchard Point
Orchardside
Orchardville
Oriel
Orient
Orillia
Oriole Parkway
Orkney Beach
Orland
Orléans
Ormond
Ormond Beach
Ormsby
Oro Beach
Oro Lea Beach
Oro Park
Oro Station
Orono
Orr Lake
Orr's Lake
Orrville
Orton
Orwell
Osaca
Osborne
Osborne Corners
Osceola
Osgoode
Oshawa
Osnabruck Centre
Oso
Ospringe
Ossossane Beach
Ostrander
Ostryhon Corners
Oswego Park
Ottawa
Ottawa East
Ottawa South
Ottawa West
Otter Creek
Otterville
Oungah
Oustic
Outlet
Ouvry
Owen Sound
Owenbrook
Oxbow Park
Oxenden
Oxford Centre
Oxford Mills
Oxford Park
Oxford Station
Oxley
Oxmead
Pain Court
Painswick
Paisley
Pakenham
Palermo
Palgrave
Palm Beach
Palmer
Palmer Rapids
Palmerston
Palmyra
Panmure
Papineauville
Paquette Corners
Paradise Beach
Paradise Point
Parc-Aylmer
Parc-Champlain
Parc-Connaught
Parc-de-la-Montagne
Parc-Glenwood
Parham
Paris
Park Head
Park Royal
Parkdale
Parker
Parker Landing
Parkers Corners
Parkersville
Parkhill
Parkside Beach
Parkview Heights
Parkview Hill
Parkway
Parkway East
Parkway Park
Parkway West
Parkwood Hills
Parry Island
Parry Sound
Patterson
Pattersons Corners
Paudash
Paudash Lake
Paugh Lake
Payne
Paynes Mills
Peabody
Peacock Point
Pearl Lake
Peekaboo Point
Peel Village
Peepabun
Pefferlaw
Peffers
Pelee Island
Pelee Island South
Pelham
Pelham Centre
Pelham Corners
Pelham Union
Pelton
Pembroke
Pendleton
Penetanguishene
Pengelly Landing
Peninsular Park
Penville
Percy Boom
Perkinsfield
Perm
Perrault
Perretton
Perrins Corners
Perry
Perry's Corners
Perrys Lane
Perrytown
Perth
Perth Park
Perth Road
Peru
Petaguishene Beach
Petawawa
Petawawa Point
Peterborough
Peters Corners
Petersburg
Peterson Corner
Pethericks Corners
Petherton
Petrie Shore
Petrolia
Petworth
Pevensey
Peveril
Phelpston
Philipsville
Phillipsburg
Phillipston
Piccadilly
Pickerel Lake
Pickerel Point
Pickering
Pickering Beach
Pickering Village
Picnic Grove
Picton
Pied-du-Calumet
Pierces Corners
Pike Bay
Pike Creek
Pikwàkanagàn
Pine Beach
Pine Crest Point
Pine Grove
Pine Hill
Pine Lodge
Pine Meadows
Pine Orchard
Pine Point
Pine Ridge
Pine River
Pine Valley
Pinecrest
Pinedale
Pineglen
Pineglen Annex
Pinegrove
Pinehurst
Pinehurst Park
Pineview
Pinkerton
Piperville
Pitts Ferry
Pittston
Plage-Albert-Tremblay
Plage-Baie-Noire
Plage-Bélisle
Plage-de-la-Pointe-Indienne
Plage-Desjardins
Plage-François-Tremblay
Plage-Léo-Allen
Plage-Philippe-Allen
Plage-Pierre-Tremblay
Plage-Pontiac
Plage-Somerville
Plage-Stanley
Plage-Taber
Plainfield
Plainville
Plaisance
Plantagenet
Plantagenet Station
Plattsville
Playfair Park
Playfairville
Pleasant Corners
Pleasant Park
Pleasant Point
Pleasant Valley
Pleasant View
Pleasant View Survey
Pleasantville
Plevna
Plover Mills
Plum Hollow
Plympton-Wyoming
Point Abino
Point Alexandria
Point Anne
Point Clark
Point Edward
Point of Mara Beach
Point Pleasant
Pointe au Baril
Pointe au Baril Station
Pointe-au-Chêne
Pointe-Castagner
Pointe-Fraser
Pointe-Gordon
Pointe-Leblanc
Poland
Polson Park
Pomona
Pond Mills
Ponsonby
Pontiac Station
Pontypool
Poole
Pooles Resort
Poplar Grove
Poplar Hill
Port Albert
Port Alma
Port Anson
Port Bolster
Port Britain
Port Bruce
Port Burwell
Port Carling
Port Carmen
Port Cockburn
Port Colborne
Port Credit
Port Crewe
Port Cunnington
Port Dalhousie
Port Darlington
Port Dover
Port Elgin
Port Elmsley
Port Franks
Port Glasgow
Port Granby
Port Hoover
Port Hope
Port Lambton
Port Law
Port Maitland
Port McNicoll
Port Metcalf
Port Milford
Port Nelson
Port Perry
Port Robinson
Port Rowan
Port Royal
Port Ryerse
Port Sandfield
Port Severn
Port Stanley
Port Stanton
Port Sydney
Port Talbot
Port Union
Port View Beach
Port Weller
Port Weller East
Port Whitby
Portage Park
Portage-du-Fort
Porter's Hill
Portland
Portsmouth
Pottageville
Potters Landing
Pottersburg
Powells Corners
Power Glen
Powles Corners
Prairie Siding
Precious Corners
Preneveau
Prescott
Presqu'ile Point
Preston
Preston Lake
Prestonvale
Prices Corner
Priceville
Primrose
Prince Albert
Prince Edward
Princess Anne Manor
Princess Margaret
Princeton
Priory Park
Progreston
Prophet Beach
Prospect
Prospect Hill
Prosperity
Proton Station
Proulx
Puce
Punkeydoodles Corners
Purbrook
Purdy
Purdy Corners
Purple Grove
Purple Hill
Purple Valley
Purpleville
Pusey
Puslinch
Putnam
Quabbin
Quadeville
Qualicum
Quantztown
Quarindale
Quarries
Queens Acres
Queens Line
Queens Park
Queensborough
Queenston
Queensville
Queensway Gardens
Queensway Terrace North
Queensway Terrace South
Queenswood Heights
Queenswood Village
Quinn
Quinn Settlement
Quinte West
Quyon
Quyon Ferry Landing
Rackety
Raglan
Railton
Rainham Centre
Rama Road
Ramsayville
Randolph
Randwick
Ranelagh
Rankin
Rannoch
Rapid Valley
Rapides-du-Rocher-Fendu
Rathburn
Ratho
Rathwell's Shore
Rattlesnake Harbour
Rattray Park Estates
Ratzburg
Ravenna
Ravenscliffe
Ravenshoe
Ravensview
Ravenswood
Rawcliffe
Raymond
Raymonds Corners
Rayside
Reaboro
Read
Reading
Reay
Red Bay
Red Wing
Redan
Reddendale
Redickville
Rednersville
Redwood
Reeces Corners
Reeve Craig
Regent Park
Reid's Corners
Reid's Mill
Reids Mills
Reidsville
Reidville
Relessey
Remington Park
Renforth
Renfrew
Renton
Renwick
Revelstoke
Rexdale
Rhodes
Ribot
Riceville
Rich Hill
Richmond
Richmond Hill
Richvale
Richview Gardens
Richwood
Rideau Ferry
Rideau Gardens
Rideau Glen
Rideau Heights
Rideau Park
Rideauview
Ridgehill
Ridgemont
Ridgemount
Ridgetown
Ridgeview
Ridgeville
Ridgeway
Ridgewood
Ridley Heights
Riley Lake
Rimington
Ringwood
Ripley
Ritchance
River Canard
River Drive Park
River Valley
Riverbank
Riverdale
Riversdale
Riverside
Riverside Heights
Riverside Park
Riverside Park South
Riverside Trailer Park
Riverstown
Riverview
Riverview Beach
Riverview Heights
Riverview Park
Riviera
Rob Roy
Robbtown
Robertson's Shore
Robertsville
Robin Landing
Robin's Point
Roblin
Roblin Mills
Rochefort
Rocher Fendu
Roches Point
Rock Chapel
Rock Mills
Rock's Mills
Rockcliffe Park
Rockcliffe Survey
Rockcroft
Rockdale
Rockfield
Rockford
Rockingham
Rockland
Rockland East
Rocklyn
Rockport
Rockside
Rocksprings
Rockton
Rockway
Rockwood
Rockwynn
Rocky Point
Rocky Saugeen
Rodney
Roeberta Park
Roebuck
Rohallion
Rokeby
Rondeau Bay Estates
Rondeau Park
Rosanna
Rose Hill
Rose Hill Estates
Rose Island
Rose Point
Rosebank
Rosebank Station
Rosedale
Rosedale Terrace
Rosedene
Rosehall
Rosehaven
Rosehill
Roseland
Rosemont
Rosemount
Rosendale
Roseneath
Rosenthal
Rosetta
Roseville
Roslin
Rossclair
Rosseau
Rosseau Falls
Rosseau Road
Rossmore
Rossmount
Rostock
Rostrevor
Rothsay
Rothwell Heights
Rothwell Village
Rouge
Rouge Hill
Rouge Park
Round Lake
Round Lake Centre
Round Plains
Routhier
Rowan Mills
Rowena
Rowland
Rows Corners
Roxboro
Roxbourgh
Royal
Royal Beach
Ruby
Ruby Mine
Rugby
Rummelhardt
Runnymede
Ruscom Station
Rush Point
Ruskview
Russeldale
Russell
Russell Landing
Rutherford
Ruthven
Ryan Farm
Ryan's Corner
Ryckmans
Ryckmans Corners
Ryderville
Rylstone
Sable
Sabourins Crossing
Sadowa
Saginaw
Sahanatien
Saint-Anicet
Saint-Joseph
Saint-Pascal-Baylon
Saint-Philippe
Saint-Rédempteur
Saint-Télesphore
Sainte-Justine-de-Newton
Sainte-Justine-Station
Sainte-Rose
Saintfield
Salem
Salem Corners
Salford
Salmon Point
Salmonville
Saltford
Sand Banks
Sand Bay
Sand Bay Corner
Sand Castle Beach
Sand Lake
Sand Point
Sandfield Mills
Sandford
Sandhill
Sandhurst
Sandhurst Shores
Sandison
Sandown
Sandringham
Sandtown
Sandusk
Sandwich
Sandy Beach
Sandy Cove
Sandy Cove Acres
Sandy Hill
Sandy Hook
Sandy Point
Sandy Point Beach
Sans Souci
Saratoga
Sarnia
Sarsfield
Sauble Beach
Sauble Beach North
Sauble Beach South
Sauble Falls
Saugeen Shores
Saurin
Sawlog Bay
Sayers Mills
Scarborough
Scarborough Village
Scarlet Park
Schindelsteddle
Schomberg
Schomberg Heights
Schutt
Science Hill
Scone
Scotch Block
Scotch Bush
Scotch Corners
Scotch Line
Scotch Point
Scotch Settlement
Scotia
Scotland
Scott
Scott Settlement
Scotts Landing
Scottsville
Scudder
Scugog
Scugog Centre
Scugog Point
Sea Breeze
Seacliffe
Seaforth
Seagrave
Sebastopol
Sebright
Sebringville
Seckerton
Seeley
Seeleys Bay
Seguin Falls
Selby
Selkirk
Selton
Selwyn
Senecal
Seouls Corners
Seven Mile Narrows
Severn Bridge
Severn Falls
Seville
Seymour Beach
Shady Nook
Shakespeare
Shallow Lake
Shamrock
Shand's Corner
Shands
Shanes
Shanick
Shanly
Shannon Hall
Shannons Corners
Shannonville
Shanty Bay
Sharbot Lake
Sharon
Sharps Corners
Sharpton
Shawanaga
Shawanaga Landing
Sheahan Estates
Sheatown
Shebeshekong
Shedden
Sheffield
Sheffield Glen
Shelburne
Sheldon
Sheldon's Corners
Shep
Shep's Subdivision
Sheppardton
Sheridan Homelands
Sheridan Park
Sherkston
Sherwood
Sherwood Forest
Sherwood Forrest
Sherwood Springs
Sherwood Village
Shetland
Shields Crossing
Shiloh
Shipka
Shipman
Shirley
Shirleys Bay
Shisler Point
Shore Acres
Shoreacres
Shouldice
Showers Corners
Shrewsbury
Shrigley
Siberia
Signet
Silcote
Sillsville
Siloam
Silver Bay
Silver Birch Beach
Silver Corners
Silver Creek
Silver Hill
Silver Hills
Silver Lake
Silverdale
Silvers Corners
Silverthorne
Simcoe
Simcoe Beach
Simcoe Island
Simcoe Lodge
Simcoeside
Simpson Corners
Sims Locks
Sinasac Corners
Sinclair Shore
Sinclairville
Sine
Singhampton
Six Nations Corner
Six Points
Sixty-Nine Corners
Skerryvore
Skipness
Skye
Skyline
Slabtown
Slade
Slate Falls
Sleswick
Sligo
Smith's Corners
Smithdale
Smithfield
Smiths Falls
Smithville
Smooth Town
Snelgrove
Snider
Snow Road Station
Snowball
Snowdons Corners
Snug Harbour
Snug Haven
Snyder
Solina
Solmesville
Sombra
Sonya
Soperton
Sopher's Landing
Sour Spring
South Augusta
South Bay
South Beach
South Branch
South Bruce Peninsula
South Buxton
South Cayuga
South Dummer
South Gloucester
South Gower
South Huron
South Keys
South Lancaster
South March
South Middleton
South Monaghan
South Mountain
South Napanee
South Portage
South Walkerville
South Wilberforce
South Windsor
South Woodslee
South Wynhurst
Southampton
Southcote
Southcott Pines
Southcrest Estates
Southdale
Southgate
Southview Beach
Southview Cove
Southview Estates
Southwold
Spaffordton
Sparkle City
Sparrow Lake
Sparta
Speedside
Speersville
Spence
Spencerville
Speyside
Spring Arbour
Spring Brook
Spring Hill
Spring Valley
Springbank
Springbrook
Springdale Park
Springfield
Springford
Springhurst Beach
Springmount
Springtown
Springvale
Springville
Springwater Lakes
Spruce Green
Spruce Hedge
Sprucedale
Spry
Squire
Squires Beach
Squirrel Depot
St-Albert
St-Amour
St-Bernardin
St-Eugène
St-Onge
St. Agatha
St. Andrews
St. Anns
St. Augustine
St. Catharines
St. Christopher
St. Clair Beach
St. Claire Gardens
St. Clements
St. Columban
St. Davids
St. Elmo
St. George
St. Helens
St. Isidore
St. Ives
St. Jacobs
St. James Town
St. Joachim
St. Johns
St. Joseph
St. Lawrence Woods
St. Marys
St. Ola
St. Pauls
St. Pauls Station
St. Phillips
St. Raphaels
St. Thomas
St. Williams
Staffa
Stamford
Stamford Centre
Stampville
Stanley Corners
Stanley House
Stanley Park
Stanleydale
Stanleyville
Stanton
Stanwood
Stapledon
Staples
Star
Star Corners
Stardale
Starks Corners
Starkville
Starr's Beach
Starrat
Starrview Acres
Stayner
Ste-Anne
Ste-Rose
Steeles
Steeles Corners
Steenburg Lake
Stella
Stephens Bay
Stevenson
Stevensville
Stewart Farm
Stewart Hall
Stewart Heights
Stewarts Glen
Stewarttown
Stewartville
Stirling
Stirling Falls
Stirton
Stittsville
Stockdale
Stoco
Stokes Bay
Stonebrook
Stonefield
Stoneleigh
Stoneridge
Stones Corners
Stoney Creek
Stoney Point
Stoney Point/Pointe-aux-Roches
Stoneybrook
Stonyridge
Stonywood
Stop 19
Storms Corners
Stouffville
Strabane
Straders Hill
Straffordville
Strange
Strasburg
Stratford
Strathallan
Strathavon
Strathburn
Strathcona
Strathcona Gardens
Strathcona Park
Strathmore
Strathnairn
Strathroy
Streetsville
Stromness
Strongville
Stroud
Sturgeon Bay
Sturgeon Beach
Sturgeon Point
Sullivan
Sulphide
Summerhill
Summers Corners
Summerstown
Summerstown Station
Summerville
Sunbury
Sunderland
Sunkist Beach
Sunnidale
Sunnidale Corners
Sunningdale
Sunny Slope
Sunnybrae
Sunnyside
Sunrise Beach
Sunset Beach
Sunset Corners
Sunset View
Sunshine
Sutherland
Sutorville
Sutton
Swan Crossing
Swansea
Sweaburg
Sweets Corners
Swift Rapids
Swindon
Swinton Park
Switzerville
Sydenham
Sykeston
Sylvan
Sylvan Glen Beach
Taits Beach
Talbot
Talbotville Royal
Talon
Tam O'Shanter
Tamarac Estates
Tamworth
Tanglewood
Tansley
Tapley
Tapleytown
Tara
Tarbert
Tartan
Tate Corners
Tatlock
Taunton
Tavistock
Taylor
Taylor Corners
Tayside
Tecumseh
Teeswater
Teeterville
Telfer
Temperanceville
Temple Hill
Tempo
Tennyson
Tent City
Terminus
Terra Cotta
Terra Nova
Terra View Heights
Terrace Hill
Terrasse-Campbell
Terrasse-Legault
Teston
Teviotdale
Thames Road
Thamesford
Thamesville
The Annex
The Beaches
The Boyne
The Bush
The Cottages
The Delta
The Glebe
The Glen
The Golden Mile
The Gore
The Grange
The Grove
The Gully
The Island
The Junction
The Kingsway
The Maples
The Meadows
The Ninth
The Outlet
The Pines
The Ridge
The Rollway
The Sixth
The Tannery
Thedford
Thistle
Thistletown
Thomasburg
Thompson Hill
Thompsonville
Thomstown
Thorah Beach
Thorah Island
Thorel House
Thornbury
Thorncliffe
Thorncrest Village
Thorndale
Thornhill
Thornton
Thornyhurst
Thorold
Thorold Park
Thorold South
Thorpe
Thorton Woods
Thrasher's Corners
Three Bridges
Throoptown
Thunder Bay
Thunder Beach
Thurso
Tichborne
Tilbury
Tilley
Tillsonburg
Tincap
Tintern
Tioga
Tiverton
Toanche
Tobermory
Toledo
Tollendal
Tollgate
Tolmie
Tolmies Corners
Tom Longboat Corners
Tomelin Bluffs
Topcliff
Topping
Tormore
Toronto
Torrance
Tory Hill
Tottenham
Townsend
Townsend Centre
Toyes Hill
Trafalgar
Trafalgar Heights
Tralee
Tramore
Tranquility
Traverston
Treadwell
Trecastle
Trend Village
Trent River
Trenton
Très-Saint-Rédempteur
Trevelyan
Trinity
Triple Bay Park
Trowbridge
Troy
Tubbs Corners
Tuftsville
Tullamore
Tunney's Pasture
Tupperville
Turin
Turkey Point
Turners
Turners Corners
Turriff
Turtle Lake
Tutela Heights
Tweed
Tweedside
Twelve O'Clock Point
Twin Elm
Tyandaga
Tyneside
Tyotown
Tyrconnell
Tyrone
Tyrrell
Udney
Udora
Uffington
Ufford
Ullswater
Underwood
Ungava
Ungers Corner
Union
Union Creek
Union Hall
Uniondale
Unionville
University Gardens
University Heights
Uphill
Uplands
Upper
Uptergrove
Urbandale
Ursa
Utica
Utopia
Utterson
Uttoxeter
Uxbridge
Vachell
Val-Tétreau
Valens
Valentia
Valetta
Vallentyne
Valley Green Beach
Valleys Corners
Valleyview
Van Allens
Van Horne
Vanastra
Vanbrugh
VanCamp
Vandecar
Vandeleur
Vandorf
Vanessa
Vanier
Vankleek Hill
Vankleek Hill Station
Vankoughnet
Vanneck
Vansickle
Vardy
Varency
Varna
Varney
Vars
Vasey
Vaughan
Vaughan Survey
Vellore
Vennachar
Vennachar Junction
Ventnor
Ventry
Verdun
Vereker
Vernon
Vernon Shores
Vernonville
Verona
Verschoyle
Verulam Park
Vesta
Vickers
Victoria
Victoria Beach
Victoria Corners
Victoria Harbour
Victoria Hills
Victoria Mills
Victoria Park
Victoria Place
Victoria Point
Victoria Road
Victoria Springs
Victoria Square
Victoria Village
Victory Hill
Vienna
Viewlake
Vigo
Villa Nova
Village Lanthier
Village Meadows
Villiers
Vine
Vinegar Hill
Vineland
Vineland Station
Vinemount
Vinette
Violet
Violet Hill
Virgil
Virginia
Virginia Beach
Viscount Alexander Park
Vista Heights
Vittoria
Vivian
Vosburg
Vroomanton
Vydon Acres
Vyner
Waba
Wabash
Waddington Beach
Wade Corners
Wagarville
Wagram
Wahawin
Wahnekewaning Beach
Wahta
Wainfleet
Waldau
Waldemar
Walden Place
Walker Woods
Walkers
Walkers Point
Walkerton
Walkerville
Wallace
Wallace Point
Wallaceburg
Wallacetown
Wallbridge
Wallenstein
Walls
Walnut
Walpole Island
Walsh
Walsingham
Walters Falls
Walton
Waneeta Beach
Wanstead
Warburton
Wardsville
Wareham
Warina
Warings Corner
Warkworth
Warminster
Warner
Warsaw
Wartburg
Warwick
Wasaga Beach
Washago
Washburn
Washburns Corners
Washington
Watercombe
Waterdown
Waterford
Waterloo
Waterton
Watford
Watson's Corners
Watterson Corners
Waubamik
Waubaushene
Waubuno
Waudby
Waupoos
Waupoos East
Waupoos Island
Wavecrest
Waverley
Waverly Beach
Websterville
Wees Beach
Weidmann
Weissenburg
Welbeck
Welcome
Welland
Welland South
Wellandport
Wellburn
Weller
Weller Park
Wellesley
Wellington
Wellman
Wemyss
Wendake Beach
Wendover
Weslemkoon
Wesley
Wesley Corners
Wesleyville
West Becher
West Brant
West Corners
West Deane Park
West Essa
West Flamborough
West Franklin
West Gravenhurst
West Guilford
West Hill
West Humber Estates
West Huntingdon
West Lake
West Lorne
West Lynde
West McGillivray
West Montrose
West Osgoode
Westboro
Westbrook
Westbrook Heights
Westcliffe Estates
Westdale
Western Hill
Westfield
Westford
Westmeath
Westminster
Westmount
Weston
Westover
Westplain
Westport
Westview
Westwood
Wexford
Wexford Heights
Whalen Corners
Whaley's Corners
Wheatley
Whitby
Whitchurch-Stouffville
White Hills
White Lake
White Oak
White Oaks Village
White Pigeon
White Rose
Whitebread
Whitechurch
Whitehall
Whitehaven
Whites
Whiteside
Whitevale
Whitfield
Whitney
Whittington
Wiarton
Wick
Wicklow
Wights Corners
Wigle
Wilberforce
Wilcox Corners
Wilcox Lake
Wildfield
Wildwood
Wilfrid
Wilkesport
Wilkinson
Willetsholme
Williams Point
Williamsburg
Williamsford
Williamsport
Williamstown
Williscroft
Willow Bay
Willow Beach
Willow Grove
Willow Lake
Willowbank
Willowdale
Willowood
Wilmer
Wilmot Centre
Wilno
Wilson
Wilson Heights
Wilson Point
Wilsonville
Wilsonwood
Wilstead
Wilton
Wilton Grove
Wiltsetown
Wiltshire Park
Winchelsea
Winchester
Winchester Springs
Windermere
Windfall
Windham Centre
Windsor
Windsor Heights
Windsor Park Village
Windward Sands
Winfield
Winger
Wingham
Wingle
Winona
Winona Park
Winslow
Winston Park
Winterbourne
Winthrop
Wisbeach
Wisemans Corners
Woburn
Wodehouse
Woermke
Woito
Wolfe
Wolford Centre
Wolford Chapel
Wolftown
Wolseley
Wolverine Beach
Wolverton
Wood Landing
Woodbine Gardens
Woodbine Heights
Woodbridge
Woodburn
Woodford
Woodgreen
Woodham
Woodhill
Woodhouse Acres
Woodington
Woodland
Woodland Acres
Woodland Beach
Woodlands
Woodlawn
Woodlawn Park
Woodpark
Woodridge
Woodrous
Woodrow Beach
Woodrowe Shores
Woods
Woods Bay
Woodside
Woodstock
Woodvale
Woodview
Woodville
Wooler
Wrightmans Corners
Wrigley Corners
Wroxeter
Wyandot
Wychwood Park
Wyebridge
Wyecombe
Wyevale
Wymbolwood Beach
Wyndham Hills
Wynhurst Beach
Wyoming
Yankee Bonnet
Yarker
Yarmouth Centre
Yatton
Yawkey
Yearley
Yelverton
Yeovil
Yerexville
Yonge Mills
Yongehurst
York
York Height
York Mills
Yorkville
Young's Cove
Youngs Harbour
Youngs Point
Youngstown
Youngsville
Zadow
Zealand
Zenda
Zephyr
Zimmerman
Zion
Zion Hill
Zion Line
Ziska
Zorra Station
Zuber Corners
Zurich