Extreme Cold Warning Issued
Environment Canada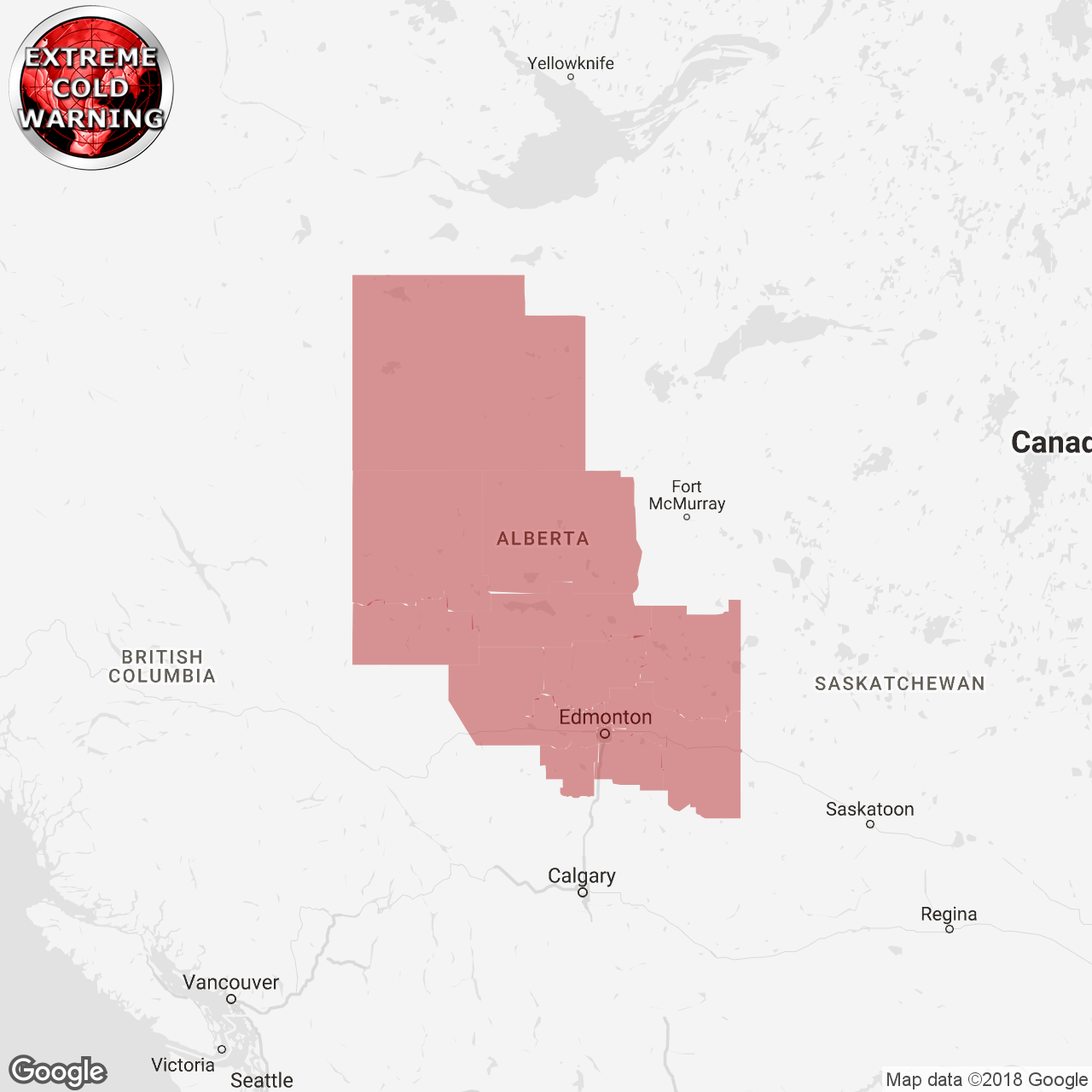 (Locations listed below description)
A multi-day episode of very cold wind chills is expected.
An arctic airmass continuing to slide south over alberta will produce extreme cold conditions tonight. Cold temperatures combined with winds of 10 to 15 km/h will produce windchill values of -40 or colder. Extreme cold conditions will last until the weekend.
Extreme cold puts everyone at risk.
Watch for cold related symptoms: shortness of breath, chest pain, muscle pain and weakness, numbness and colour change in fingers and toes.
Cover up. Frostbite can develop within minutes on exposed skin, especially with wind chill.
Outdoor workers should take regularly scheduled breaks to warm up.
Please continue to monitor alerts and forecasts issued by environment canada. To report severe weather, send an email to ec.storm.ec@canada.ca or tweet reports using #abstorm.
end/paspc
ISSUED:
Athabasca
Athabasca Co. near Athabasca and Island Lake
Athabasca Co. near Boyle and Caslan
Athabasca Co. near Grassland and Atmore
Athabasca Co. near Rochester Colinton and Meanook
Athabasca Co. near Wandering River
Barrhead
Beaver Co. near Holden and Ryley
Beaver Co. near Tofield
Beaver Co. near Viking and Kinsella
Beaverlodge
Big Lakes County near Driftpile Faust and Kinuso
Big Lakes County near Enilda and Joussard
Big Lakes County near Gift Lake and Peavine Smts
Big Lakes County near High Prairie and Winagami Lake
Big Lakes County near Hilliard's Bay Prov. Park and Big Point
Big Lakes County near Swan Hills
Birch Hills Co. near Eaglesham and Hwy 740
Birch Hills Co. near Wanham and Peoria
Bonnyville
Brazeau Co. near Drayton Valley and Breton
Cadotte Lake
Camrose
Camrose Co. near Bawlf and Rosalind
Camrose Co. near Camrose and Bittern Lake
Camrose Co. near Hay Lakes and Miquelon Lake Prov. Park
Camrose Co. near New Norway Edberg and Ferintosh
City of Edmonton
Clear Hills Co. near Chinchaga Wildland Prov. Park
Clear Hills Co. near Cleardale Worsley and Cherry Point
Clear Hills Co. near Hines Creek and Eureka River
Co. of Barrhead near Barrhead and Lac la Nonne
Co. of Barrhead near Neerlandia Bloomsbury and Vega
Co. of Barrhead near Thunder Lake and Holmes Crossing
Co. of Grande Prairie near Beaverlodge Hythe and Demmitt
Co. of Grande Prairie near Grande Prairie and Wembley
Co. of Grande Prairie near Sexsmith and La Glace
Co. of Minburn near Innisfree Lavoy and Ranfurly
Co. of Minburn near Minburn and Mannville
Co. of Minburn near Vegreville Inland and Warwick
Co. of Northern Lights near Dixonville and Cardinal Lake
Co. of Northern Lights near Manning and Notikewin Prov. Park
Co. of St. Paul near Ashmont St. Vincent and St. Lina
Co. of St. Paul near Elk Point and St. Edouard
Co. of St. Paul near Lindbergh and Frog Lake
Co. of St. Paul near St. Paul and Lafond
Co. of Two Hills near Myrnam and Derwent
Co. of Two Hills near Two Hills and Brosseau
Co. of Two Hills near Willingdon and Hairy Hill
Co. of Vermilion River near Dewberry and Clandonald
Co. of Vermilion River near Islay and McNabb Sanctuary
Co. of Vermilion River near Kitscoty and Marwayne
Co. of Vermilion River near Paradise Valley
Co. of Vermilion River near Tulliby Lake
Co. of Vermilion River near Vermilion
Co. of Wetaskiwin near Alder Flats and Winfield
Co. of Wetaskiwin near Pigeon Lake
Co. of Wetaskiwin near Wetaskiwin Millet and Hwy 2
Cold Lake
Devon
Drayton Valley
Edson
Elk Island Nat. Park
Evansburg
Fairview
Flagstaff Co. near Alliance and Bellshill Lake
Flagstaff Co. near Daysland Heisler and Strome
Flagstaff Co. near Killam and Sedgewick
Flagstaff Co. near Lougheed and Hardisty
Fort Saskatchewan
Fort Saskatchewan and Nrn Strathcona Co.
Fort Vermilion
Fox Creek
Gift Lake
Grande Prairie
High Level
High Prairie
Improvement District 349 including Cold Lake Air Weapons Range
Lac La Biche
Lac La Biche Co. near Fork Lake
Lac La Biche Co. near Heart Lake
Lac La Biche Co. near Lac La Biche and Square Lake
Lac La Biche Co. near Lakeland Prov. Park and Rec. Area
Lac La Biche Co. near Plamondon Hylo and Avenir
Lac Ste. Anne Co. near Cherhill and Glenevis
Lac Ste. Anne Co. near Mayerthorpe and Sangudo
Lac Ste. Anne Co. near Onoway and Lac Ste. Anne
Lamont Co. near Andrew and Wostok
Lamont Co. near Bruderheim Lamont and Peno Creek
Lamont Co. near Mundare Chipman and Ukrainian Village
Leduc
Leduc Co. near Calmar and Devon
Leduc Co. near Leduc Beaumont and Kavanagh
Leduc Co. near New Sarepta and Rolly View
Leduc Co. near Warburg Thorsby and Pigeon Lake
M.D. of Bonnyville near Beaverdam
M.D. of Bonnyville near Bonnyville Ardmore and Kehewin Res.
M.D. of Bonnyville near Cold Lake and City of Cold Lake
M.D. of Bonnyville near Fishing Lake Smt
M.D. of Bonnyville near Glendon and Moose Lake
M.D. of Bonnyville near La Corey Wolf Lake and Truman
M.D. of Fairview including Fairview Whitelaw and Dunvegan
M.D. of Greenview near DeBolt
M.D. of Greenview near Fox Creek
M.D. of Greenview near Little Smoky
M.D. of Greenview near O'Brien Prov. Park and Big Mtn Creek
M.D. of Greenview near Sturgeon Lake
M.D. of Greenview near Valleyview and New Fish Creek
M.D. of Greenview near Wapiti and Shuttler Flats Rec. Area
M.D. of Lesser Slave River near Chisholm and Cross Lake
M.D. of Lesser Slave River near Marten Beach
M.D. of Lesser Slave River near Slave Lake and Saulteaux
M.D. of Lesser Slave River near Smith and Fawcett Lake
M.D. of Opportunity near Calling and Rock Island Lakes
M.D. of Opportunity near Chipewyan Lake
M.D. of Opportunity near Peerless Lake and Trout Lake
M.D. of Opportunity near Red Earth Creek and Loon Lake
M.D. of Opportunity near Wabasca-Desmarais and Sandy Lake
M.D. of Peace including Grimshaw and Berwyn
M.D. of Provost near Czar Metiskow and Cadogan
M.D. of Provost near Hughenden Amisk and Kessler
M.D. of Provost near Provost and Hayter
M.D. of Smoky River including Falher McLennan and Guy
M.D. of Spirit River including Spirit River and Rycroft
M.D. of Wainwright near Chauvin Dillberry Lake and Roros
M.D. of Wainwright near Edgerton and Koroluk Landslide
M.D. of Wainwright near Irma
M.D. of Wainwright near Wainwright
Mackenzie Hwy
Manning
Mayerthorpe
Morinville
Nrn Sunrise Co. near Cadotte Lake and Swampy Lake Res.
Nrn Sunrise Co. near Keppler Creek
Nrn Sunrise Co. near Loon Prairie Res. and Bison Lake
Nrn Sunrise Co. near Peace River Nampa and Three Creeks
Nrn Sunrise Co. near Utikoomak Reserves
Parkland Co. near Entwistle Fallis and Tomahawk
Parkland Co. near Spruce Grove and Stony Plain
Parkland Co. near Wabamun Carvel and Keephills
Peace River
Peerless Lake
Pigeon Lake
Ponoka Co. near Crestomere
Ponoka Co. near Rimbey Bluffton and Hoadley
Rainbow Lake
Redwater
Rimbey
Saddle Hills Co. near Bay Tree and Silver Valley
Saddle Hills Co. near Moonshine Lake Prov. Park
Saddle Hills Co. near Woking
Sherwood Park
Slave Lake
Smoky Lake
Smoky Lake Co. near Buffalo Lake and Kikino Smts
Smoky Lake Co. near Smoky Lake and Waskatenau
Smoky Lake Co. near Vilna Saddle Lake and Whitefish Lake
Spruce Grove
St. Albert
St. Paul
Strathcona Co. near Ardrossan and Cooking Lake
Sturgeon Co. near Bon Accord Gibbons and Namao
Sturgeon Co. near Legal and Mearns
Sturgeon Co. near Morinville Volmer and Big Lake
Sturgeon Co. near Redwater
Sturgeon Co. near Rivière Qui Barre and Villeneuve
Swan Hills
Thorhild Co. near Newbrook and Long Lake Prov. Park
Thorhild Co. near Thorhild Opal and Radway
Tofield
Valleyview
Vegreville
Wabasca
Westlock
Westlock Co. near Larkspur Fawcett and Jarvie
Westlock Co. near Westlock and Clyde
Wetaskiwin
Whitecourt
Woodlands Co. near Benbow and Windfall
Woodlands Co. near Carson-Pegasus Prov. Park
Woodlands Co. near Fort Assiniboine Timeu and Topland
Woodlands Co. near Goose Lake
Woodlands Co. near Whitecourt and Blue Ridge
Yellowhead Co. near Edson and Sundance Prov. Park
Yellowhead Co. near MacKay Wildwood and Evansburg
Yellowhead Co. near Peers and Niton Junction