Snow Returns to Parts of Southern Ontario; up to 15-25cm Possible by Friday
InstantWeather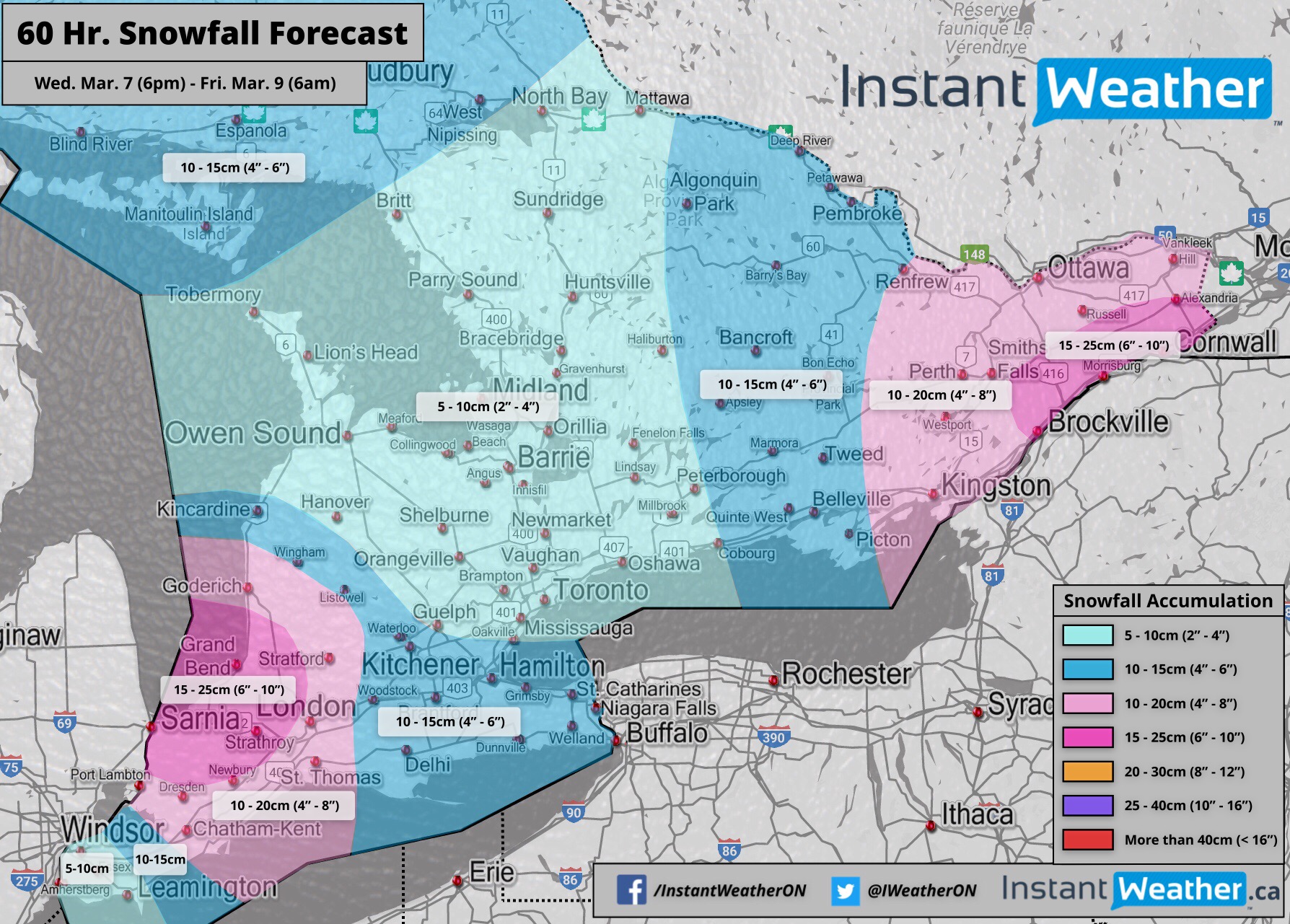 While meteorological spring began last week it seems that winter isn't quite done with Southern Ontario just yet. Moisture from a Nor'easter expected to inpact the Eastern Seaboard will wrap into our region along with another system coming in from Midwestern America.
The first round of snow started earlier today with scattered flurries and light snow affecting many areas. The snow will continue into the overnight hours, but accumulation should be insignificant with most locations seeing less than 5cm by Wednesday morning.
Heavier snow will begin early Wednesday morning in Southwestern Ontario and we're expecting lake enhancement around the southern portion of Lake Huron. It will continue for much of day before slowly tapering off during the evening on Wednesday. The lake enhancement will result in locations including Sarnia, Grand Bend and Strathroy seeing local amounts close to 15-20cm.
As mentioned above, the Eastern Seaboard is bracing for a powerful Nor'easter that could bring upwards of 30-50cm to parts of Upstate New York, New England and the Canadian Maritimes. The outer precipitation bands of this storm will begin to impact parts of Eastern Ontario overnight Wednesday.
Snow will intensify into the morning on Thursday with the heaviest snow expected between 5am-12pm. This will likely lead to substantial impacts on the morning commute on Thursday within the hardest hit regions. Bus cancellations aren't out of the question and if required we'll have a snow day forecast posted Wednesday evening.
Light to moderate snowfall will spread throughout most of Southern Ontario during the day on Thursday and into the overnight hours. It should begin to weaken starting early Friday morning. By Friday we can expect some parts of Eastern Ontario especially those closest to the New York border to see anywhere from 10-25cm depending on your location. Elsewhere, accumulation should end up between below 5-15cm not including what fell earlier in Southwestern Ontario.
We'll continue to monitor this and provide updates as needed.
-IWO/OBW (Brennen P.)