SEVERE WEATHER OUTBREAK Forecasted by Environment Canada for Today/Tonight for Much of Saskatchewan (Tue, July 10th, 2018)
InstantWeather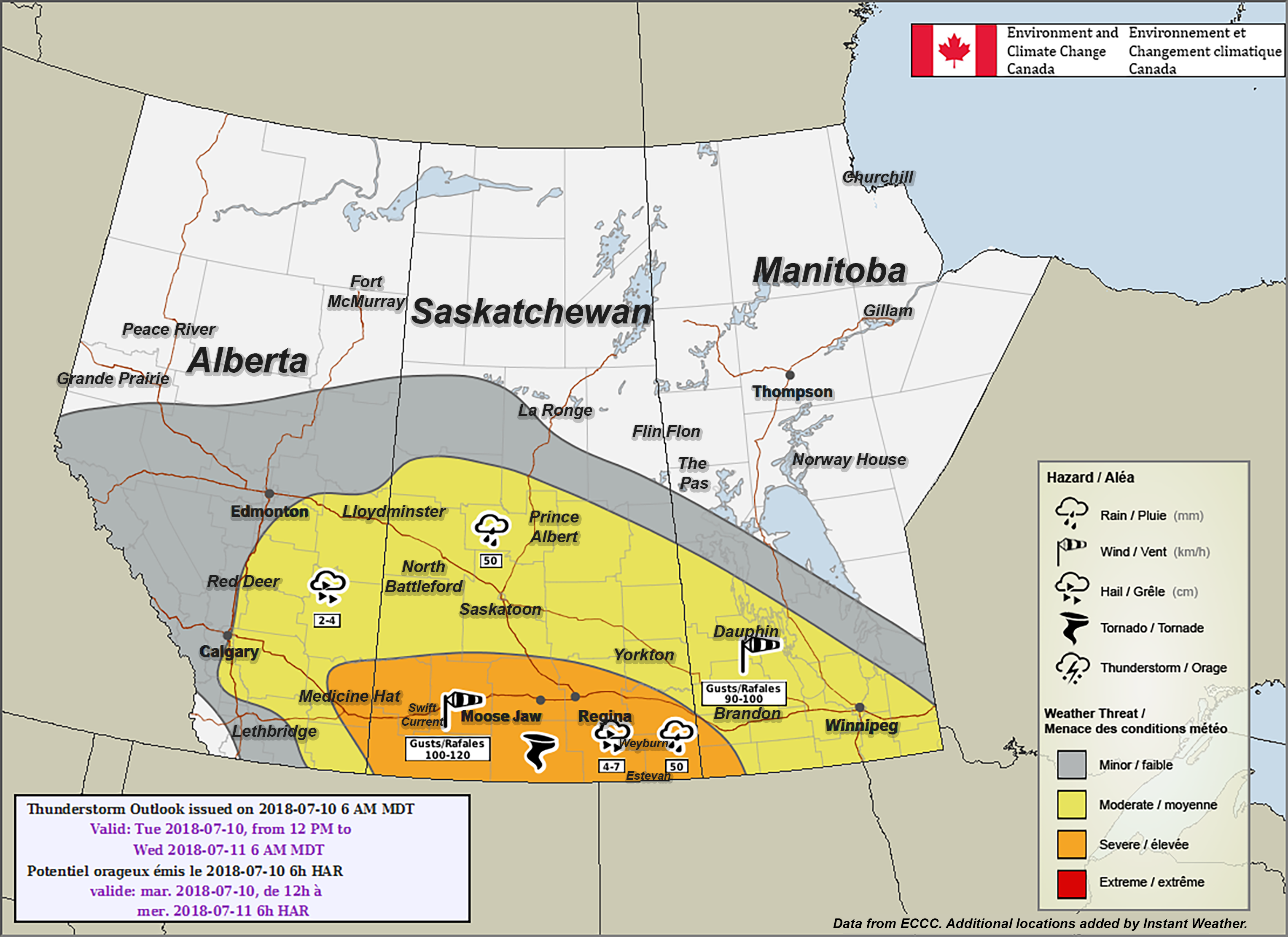 PLEASE READ DISCLAIMER BELOW
Here's what Environment Canada wrote:
"Saskatchewan
Area(s): Southern and Central Saskatchewan
Timing: Afternoon into the overnight hours
Threats: 4-7 cm hail, Damaging wind gusts well in excess of 90 km/h, 50 mm of rainfall, and a risk of a tornado
Widespread severe thunderstorms are expected to develop over southern Saskatchewan in the afternoon hours. These severe thunderstorms are expected to merge into a squall line that races east-southeast during the late afternoon, evening and overnight hours. All severe weather hazards will be possible during this severe weather outbreak."
PLEASE READ: For those wondering, these "prototype" maps are not yet available on EC's website. However, they will become operational soon and shared directly on their site. These forecasts and maps are issued by the same Environment Canada Meteorologists that issues all Watches and Warnings for the prairies. They're also temporarily hosted by the University of Manitoba here:
https://umanitoba.ca/faculties/environment/envirogeog/weather/conv_otlk/
Environment Canada's disclaimer says:
"Disclaimer: These products are part of an experimental initiative at Environment and Climate Change Canada (ECCC). These are not official ECCC products and therefore may not be available on a daily basis. Please continue to monitor weather forecasts as well as watches and warnings via http://www.weather.gc.ca/. Please address any questions, concerns and/or feedback regarding these products to the Decision Support Meteorologists at the Prairie and Arctic Storm Prediction Centre, available by email at ec.soutienmeteoouest-weathersupportwest.ec@canada.ca."
More details ASAP!