Messy Start to the Week for Southern Ontario With Snow and Risk of Freezing Rain Beginning Monday (Jan 7) and Lasting Into Tuesday (Jan 8)
InstantWeather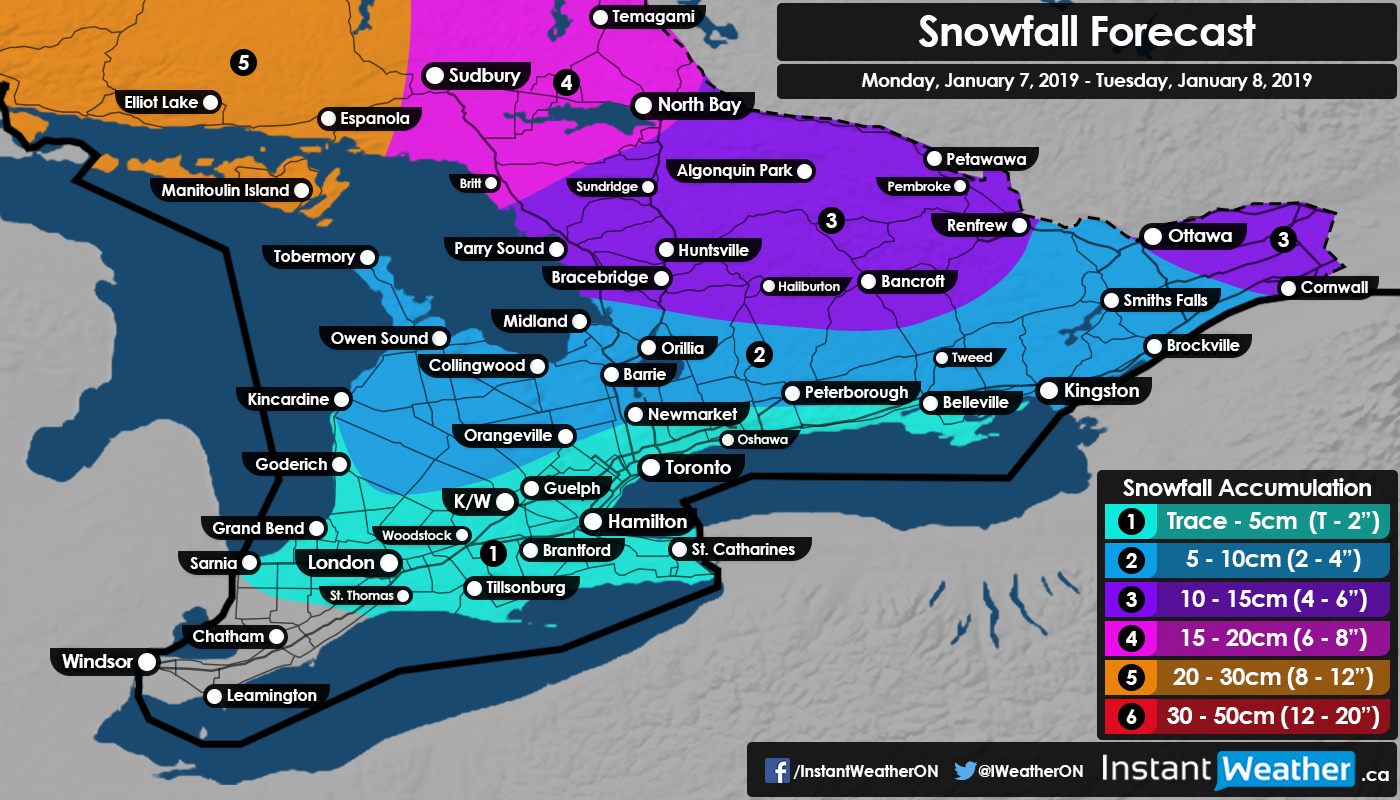 The last few days have been quite mild considering we're in the middle of the winter along with little precipitation. That'll quickly change late Sunday as colder air flows into the region pushing temperatures well below the freezing mark. This will lead to a chilly start on Monday morning with temperature feeling like -10c to -20c once you factor in the wind chill. Although, the cooldown will be brief as a weak system from the midwest will usher in warmer air late Monday along with a wintry mix of precipitation.
We'll start feeling the effects of the system beginning sometime during the afternoon or evening on Monday. It will likely start out as some light to moderate snowfall with some ice pellets mixed in. The only exception to this is Extreme Southwestern Ontario (Windsor, Chatham-Kent etc.) as we expect them to start right off with rain and avoid any of the wintery precipitation further north. Central and Eastern Ontario will see mostly snow from this event with general acclamation ranging from 6-12cm with some variance depending on the location. Higher accumulation in excess of 20cm is expected in Northeastern Ontario including Elliot Lake and Manitoulin Island.
As temperatures slowly climb throughout the evening on Monday we should see a transition over to freezing rain beginning west of the Lake Huron shoreline and spreading to the east towards the GTA and K/W area. The freezing rain could last for 4+ hours in higher elevations such as the Dundalk Highlands and locations northwest of K/W. Elsewhere, a quick 2-3 hours of freezing rain is possible before switching over to rain with less close to the Lake Ontario shoreline. Impacts should be limited to locally icy roads during the evening and early overnight hours on Monday as the ice will quickly melt once temperatures rise above the freezing mark. All freezing rain should be over by midnight with rain in the south and snow in the north lasting into Tuesday morning.
After the system moves out we are closely keeping an eye on the potential for lake effect snow that will affect the typical snowbelts around Lake Huron and Georgian Bay. More details on that in the coming days.