BLIZZARD TIMING UPDATE: Dangerous Blizzard Conditions Increasingly Likely for Southern Ontario Starting Tuesday With Intense Snow, Freezing Rain, Ice Pellets, and Severe Wind Gusts
InstantWeather
Below is a detailed video update regarding timing and what to expect with this winter storm (written details below):
Here's what Jennifer said in the video:
Hi, it's Jennifer Fergusson for Instant Weather Ontario.
We have a beautiful winter day up here today with lots of sunshine. And I wish we could talk about this weather continuing but, as has been the case for the last few weeks, we do have a winter storm to talk about, moving into place for tomorrow. We'll have all the details in today's video.
This week's winter storm is brought to you by a Colorado Low. And it is going to be the most significant as far as snow accumulation as we've seen this winter. So a very messy day on the way for tomorrow, linger into Wednesday for a lot of us. We're going to see heavy snow, blowing snow, obviously strong winds with that blowing snow, freezing rain for a lot of us, blizzard conditions, it is going to be a mess out there tomorrow. Now Brennen has made some great maps for us because a lot of areas in the southwest of Ontario are going to be around the zero mark. They're going to be seeing a lot more freezing rain or rain than areas north of that will and into eastern Ontario, where the accumulations will be a lot higher. So his maps show us what we can expect for precipitation and in what time frame. Let's take a look at those now.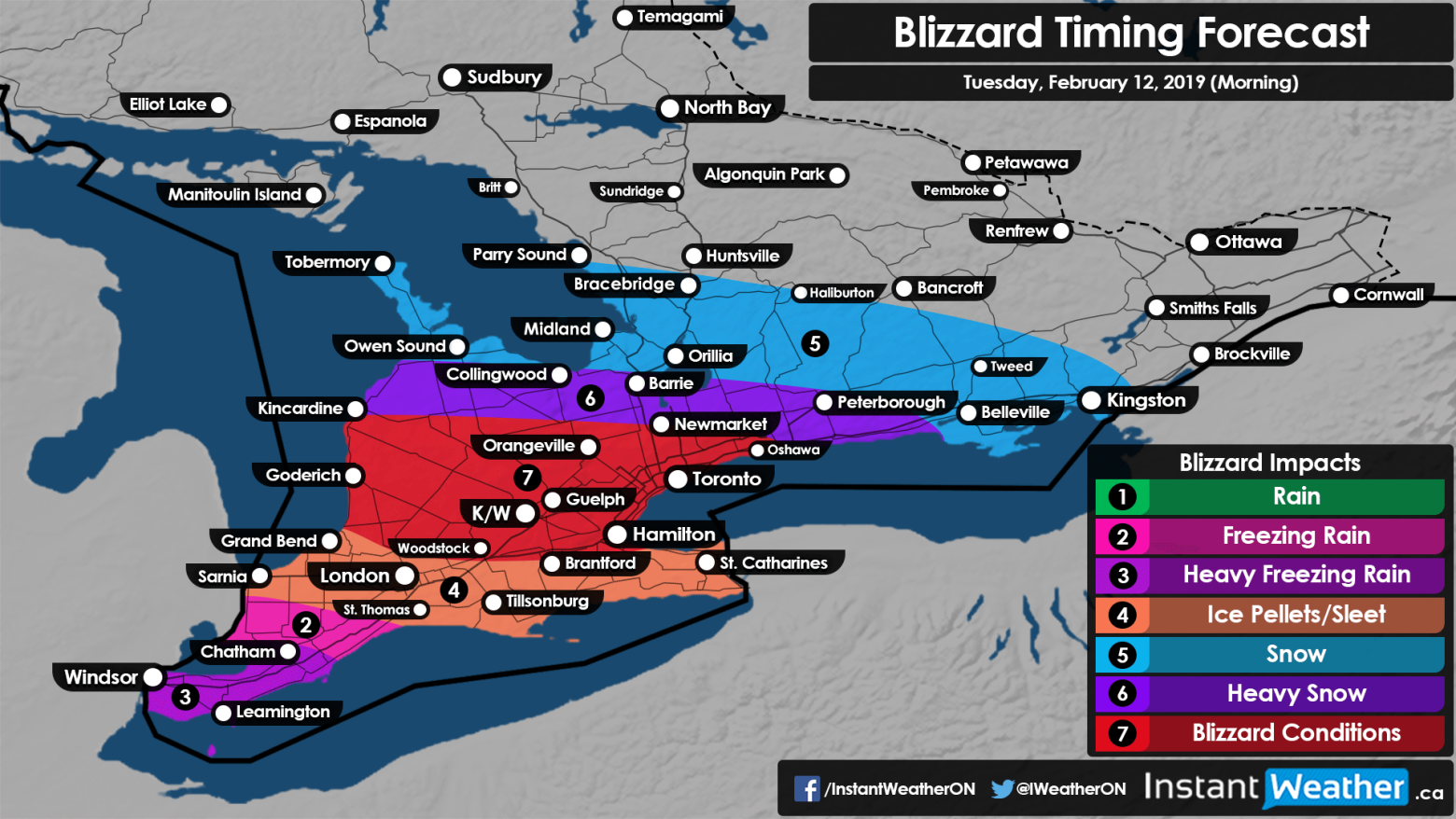 So Windsor, Leamington, Chatham, all looking at some heavy freezing rain. Freezing rain into almost St. Thomas. Look at ice pellets and sleet for Grand Bend, Sarnia, London, through Tillsonburg and St. Catharines. And then, we're looking at those blizzard conditions we were talking about for Kitchener/Waterloo, Goderich, Kincardine, Orangeville, Toronto, even Oshawa, possibly Newmarket right on the edge, before it switches over into heavy snow above that. And then areas in blue, looking at Owen Sound, Tobermory, Bracebridge, Orillia, possibly Peterborough and Kingston, at this point, on Tuesday morning, looking for snow.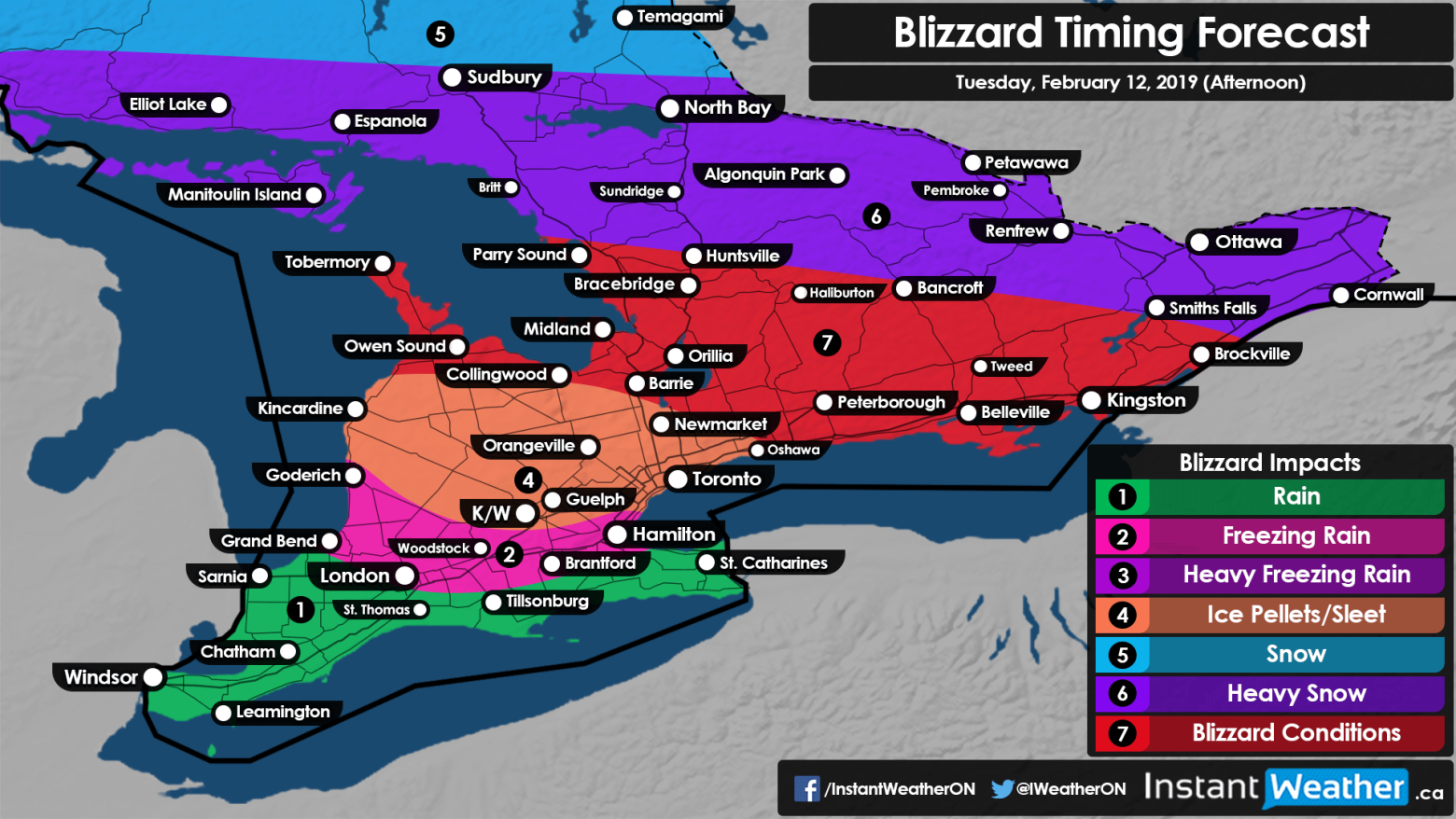 By the afternoon, we start to see rain in the extreme southwest, moving to freezing rain in Woodstock, London, Brantford, Hamilton, and ice pellets through Kitchener/Waterloo, Guelph, Toronto, up into Newmarket, for Kincardine as well and possible Collingwood. Above that, further north into Peterborough, Kingston, Bracebridge, Tobermory, that's where the blizzard conditions start to take place. And further north of that, heavy snow.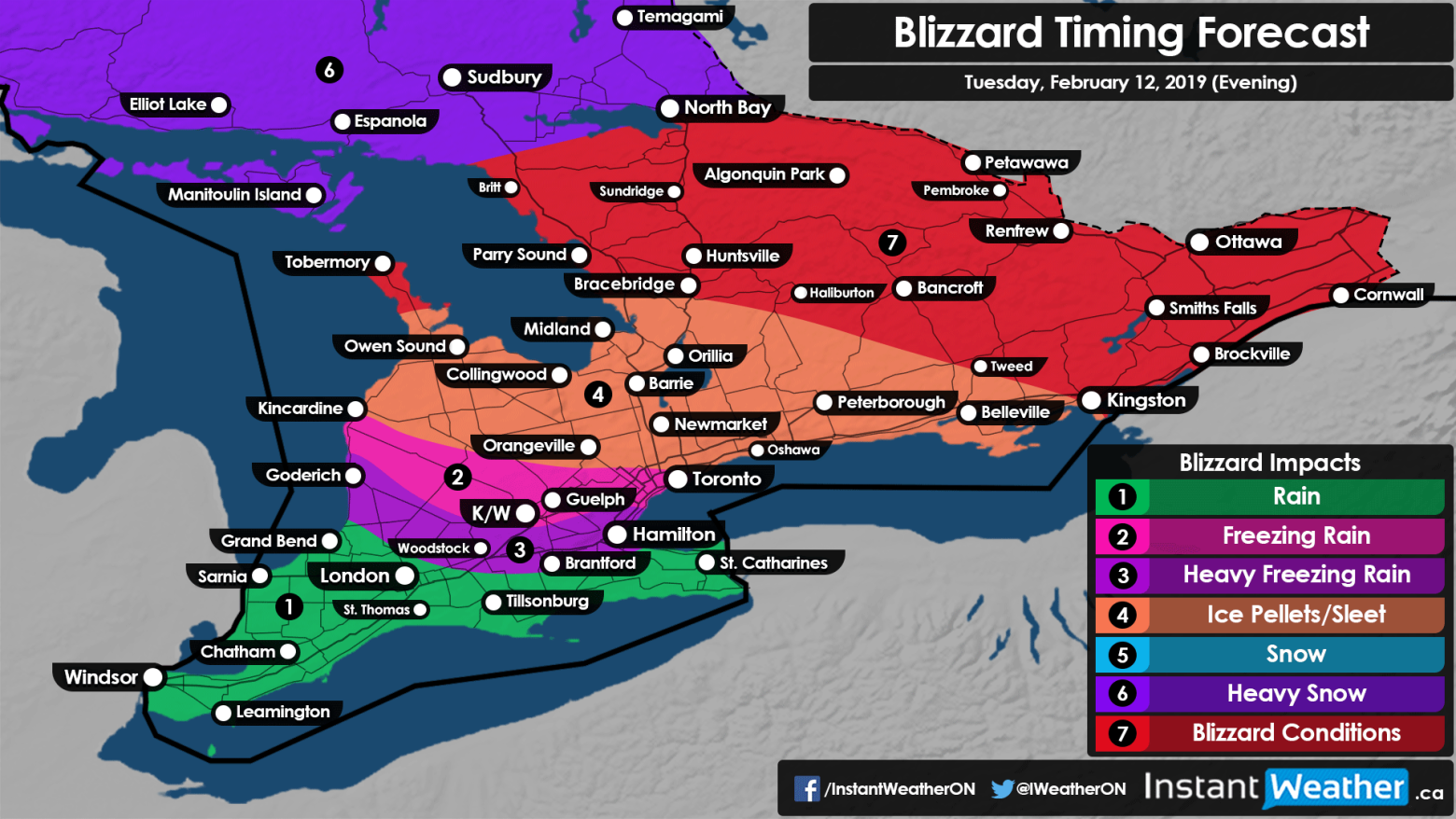 By the evening, we're looking at rain continuing in the extreme southwest, freezing rain moving right up through K/W and Guelph, almost into Orangeville, for Toronto as well. Ice pellets or sleet are going to be from Owen Sound, through Collingwood, Newmarket, Peterborough, and Belleville. And then blizzard conditions move north of that.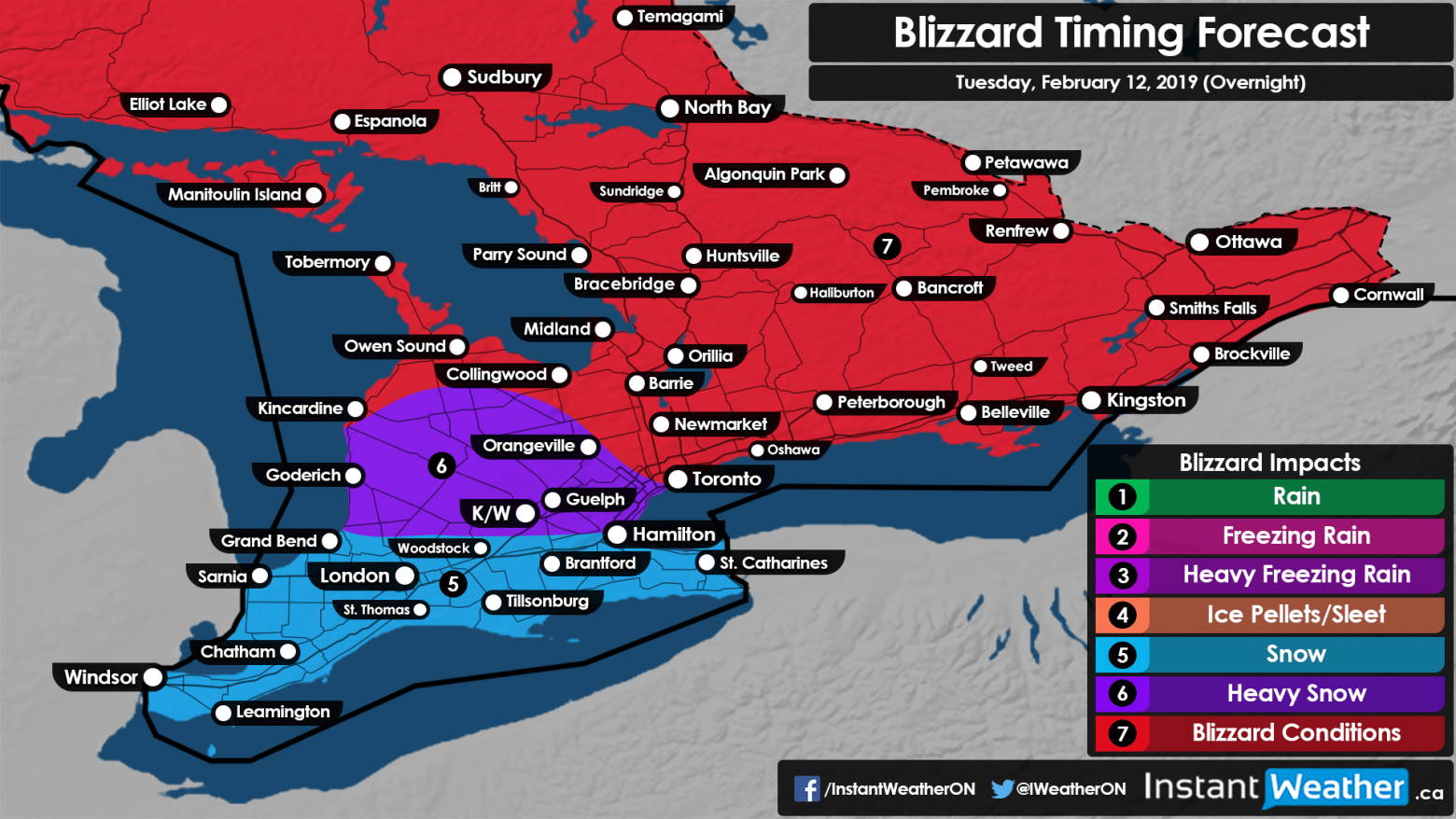 For the overnight on Tuesday, we have snow as the temperature drops for the extreme southwest, right up to Woodstock, Hamilton, Brantford, and St. Catharines. And then north of that, blizzard conditions.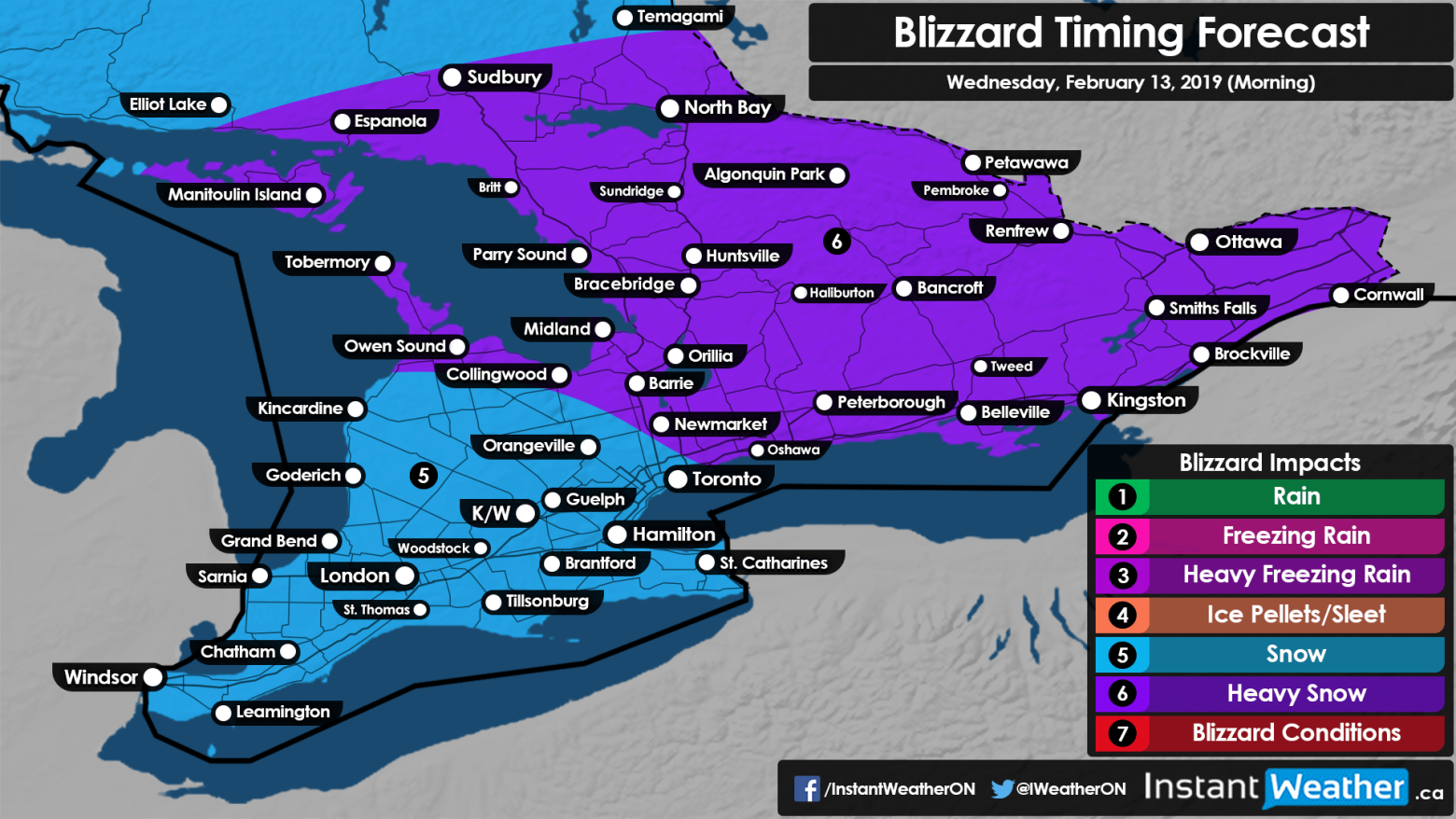 Now by Wednesday morning, we're looking at snow starting the day. For Windsor, right through Kitchener/Waterloo into Guelph, right into Toronto, up into Kincardine. And then for the Bruce Peninsula and eastern Ontario, northern Ontario, heavy snow continuing.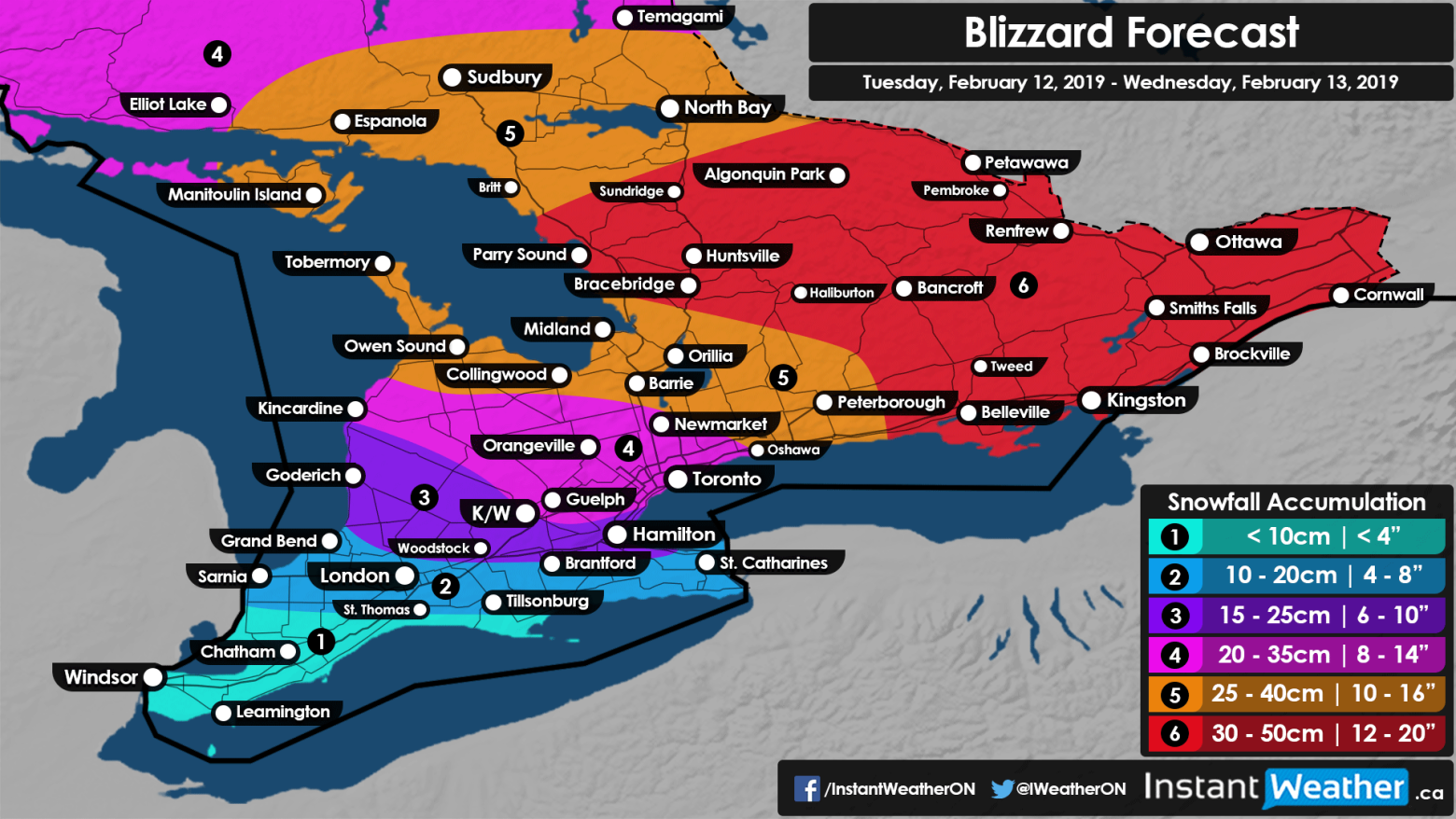 The other thing we want to talk about is what you can expect as far as accumulation. We're looking at less than 10cm for Windsor, Chatham, and Leamington. For London, Tillsonburg, Brantford and St. Catherines, 10-20cm. Goderich, Kitchener/Waterloo, Woodstock, Hamilton, 15-25cm. 20-35cm for Kingston, Orangeville, Guelph, Toronto, Newmarket, and Oshawa's right on the border. Areas north of Oshawa will see 25-40cm. That includes Peterborough, Orillia, Midland, Tobermory, Owen Sound. And then areas further northeast of that, 30-50cm, all the way up into Algonquin Park, Petawawa, Renfrew, Ottawa, Brockville, Kingston, Belleville.
So a very impactful storm that we're looking at through the day on Tuesday, lingering into Wednesday. To read more information about this storm, please follow us on Facebook, Instagram, Twitter, Brennen's full article is there and full of all of the information that we've just talked about.
Link to the full forecast is here: https://instantweather.ca/2019/02/11/2Ucb1D-dangerous-blizzard-conditions-increasingly-likely-for-southern-ontario-starting-tuesday-snow-accumulation-between-20-40-cm-throughout-central-eastern-ontario-and-the-gta-5-10mm-of-freezing-rain-for-windsor-hamilton-kitchener-waterloo-regions/
If you liked this video, please give it a thumbs up. Also, if you haven't done so already, please subscribe. If you click the bell you'll get a notification the next time we have a video update. We love to keep you informed! We're also going to have a very cool video coming up later this week talking about your long weekend family day forecast, and some fun things that you might want to check out with the family.
For Instant Weather Ontario, I hope you stay safe tomorrow, stay off the roads if you can, I'm Jennifer Fergusson.
Jennifer Fergusson, Brennen Perry, & Adam Skinner
P.S. If you like these videos, please consider joining our Patreon campaign. For more details, visit https://Patreon.com/InstantWeather - There are cool rewards there like t-shirts and coffee mugs, etc! Thank you!